---
Something Mouth-watering
---
Think back to your school days, and you're bound to remember the school's summer fete. There was always so much on offer – the coconut shy, the bouncy castles, the chance to chuck a sponge at your teachers – but perhaps best of all was all the food to be consumed. You can choose from candy floss, a beer tent for the grown-ups, and the fantastic, freshly made burgers from the burger van. We bet you can smell those juicy beef patties right now, with the scent of the fried onions and the sizzling griddle as fresh as it was way back when.
If you're looking to bring something mouth-watering to your school's summer event, there is no better option than one of KK Catering's burger vans. Burger van hire is so much easier than you'd think. Our staff will take charge of the burger experience from setting up to packing away at the end of the day so no need to draft volunteers to man the griddle. Just leave it all to us, and enjoy the positive feedback from parents, children and the community.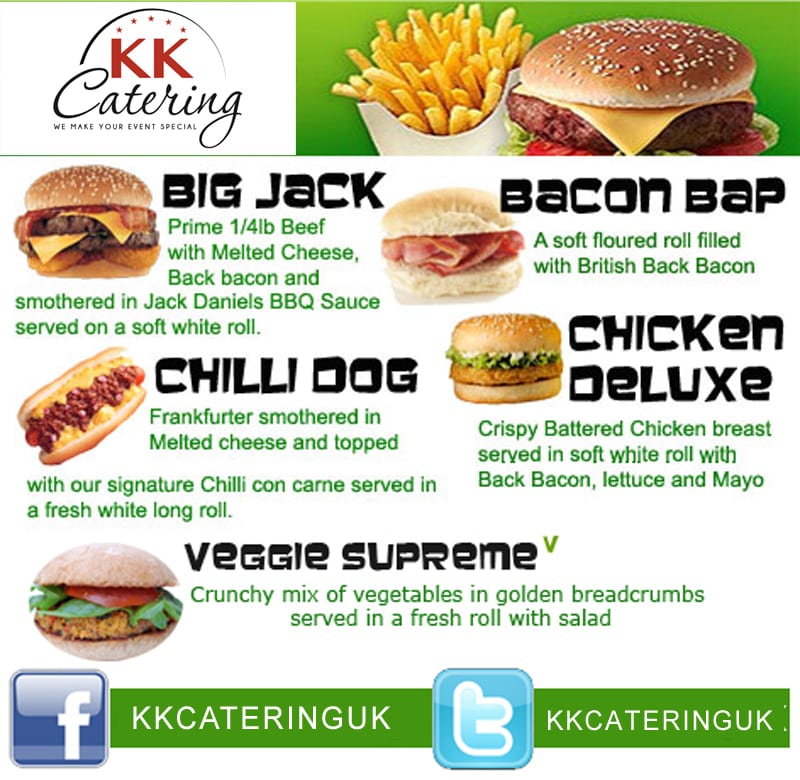 ---
Take Your Pick From Other Choices and Options
---
We don't just serve burgers from our burger vans either. Customers can take their pick from prime Angus beef, Chicken, or even Venison or Wild Boar if you fancy something a little bit different for your visitors. We've not forgotten the vegetarians either, as we've got a fantastic veggie burger on the menu. Served on one of our fluffy burger buns by our experienced chefs, they won't forget the delicious burger that they enjoyed at your special event.
Of course, it's not just burger vans that we can send to your event. fish and chip vans, baked potato vans and mobile creperies are all available, as are so many more options. Having a themed event? We've got food options from across the world, so we're sure to have something which will fit in with your scheme.
Wherever your school is located, we've got a depot which can come to you. With hubs in Manchester, Hemel Hempstead and Bristol, we like to think we've got Great Britain covered. Why not get in touch with us today, and book us for your school event?