How much does a burger van cost is one of the most popular questions we receive into our Customer Services Team here at KK Catering , and although we offer an easy quote form for our customers to complete to receive a quick simple answer to this question, we decided to break down all the options available to you whether you use our company or any other mobile caterer.
The question 'how much does a burger van cost?' is a very difficult question to answer. To be openly honest it can vary, however we will try to answer this question with some pricing guidelines as set out below.
Typically a Burger van costs from £2.50 per person to £15.00 per person and here is why the price is so varied.
---
Number Of Guests
---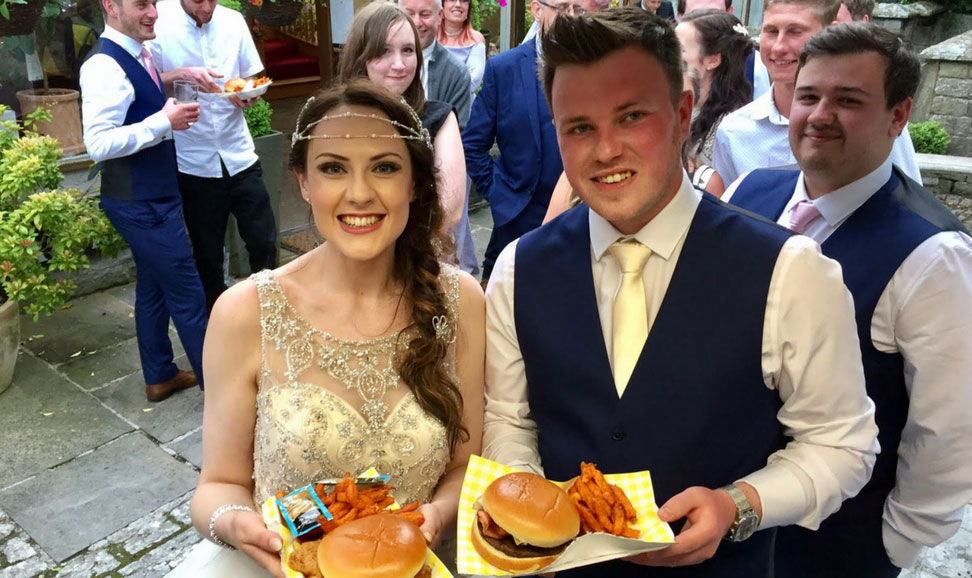 As with any event planning, the number of guests you have attending is the single most important factor in cost when it comes to hiring a burger van for your event, the larger the number of guests the lower the price per person.
This is because any catering company has initial costs to outlay before the food is even taken into account
Staffing Costs:
Depending on the number of guests you have planned to attend your event, the number of staff required by the catering company to cook and serve your guests will vary, typically if you have less than 100 guests then an experienced cook should be able to serve around all 100 meals in around 60 – 90 minutes.
Here at KK Catering, we use the following staffing guide based on a 2-hour service
0-100 guests = 1-2 Staff
100 – 200 Guests 2-3 Staff
200 plus guests = dependent on how quick the menu is needed to be served
Staffing typically is the highest outlay to any catering company.
---
Length Of Time Required
---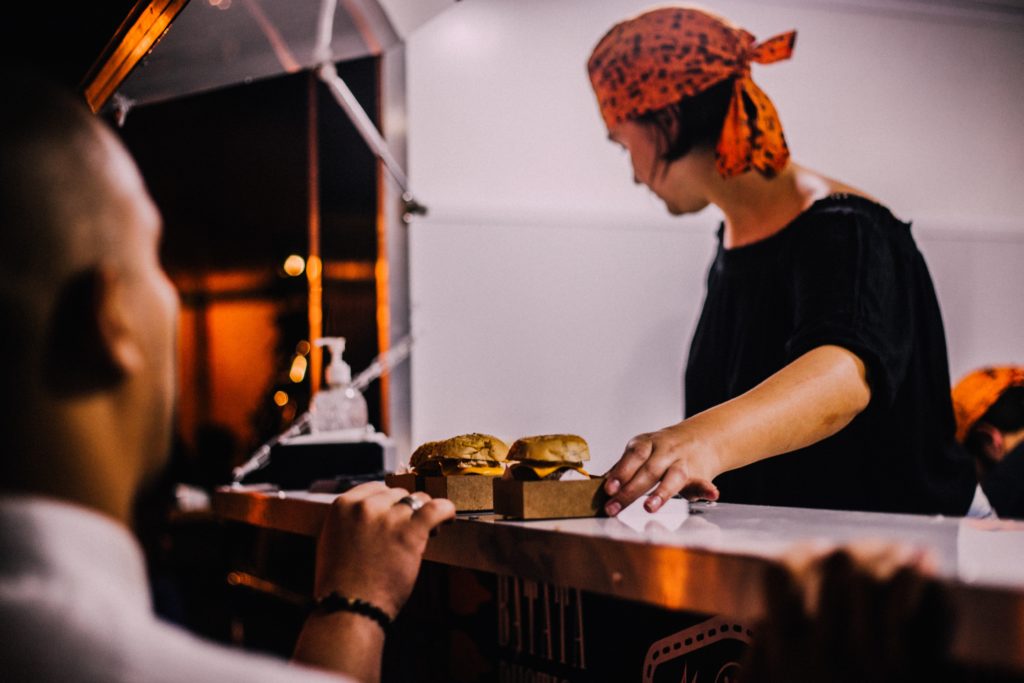 The cost will also rely on how long you require the burger van to be open serving food to your guests. Why? Staff are paid hourly so the longer you require the van to be open, the more wages the catering company needs to pay their staff. 
Here at KK Catering, we suggest a 2-hour service window for most private events and parties however for longer events such as company trade days, location catering, promotional events and construction catering then a longer service window is usually required which will increase any prices quoted.
---
Time Of Day
---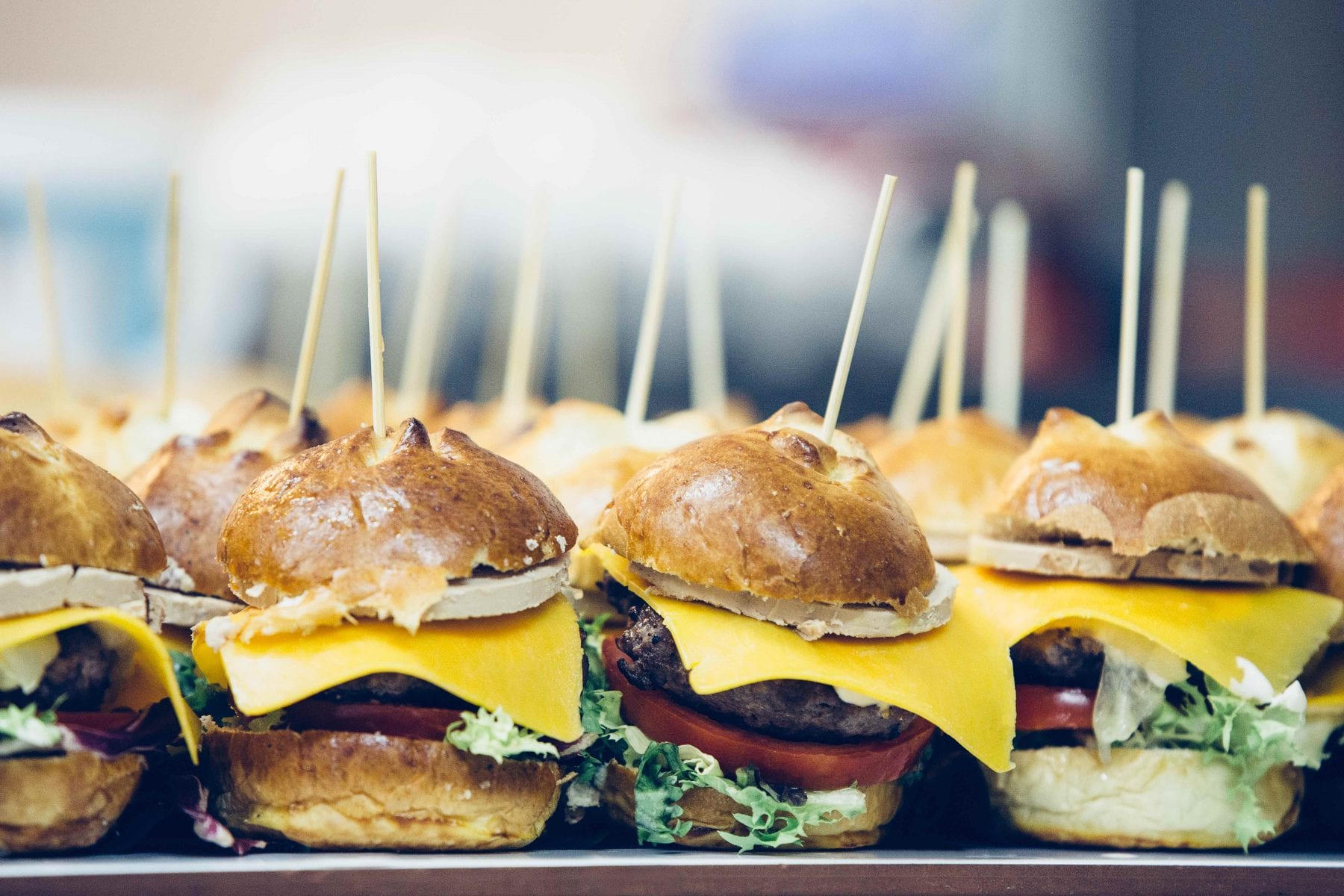 Keep in mind the time of day you require a burger van as that will affect the cost.
For example, requesting a burger van to open to your guests at 5 am in the morning or serving a late-night audience will mean that the catering company may have to offer their staff a hotel overnight or pay overtime or additional bonuses due to the unsociable hours.
---
Quality Of Food
---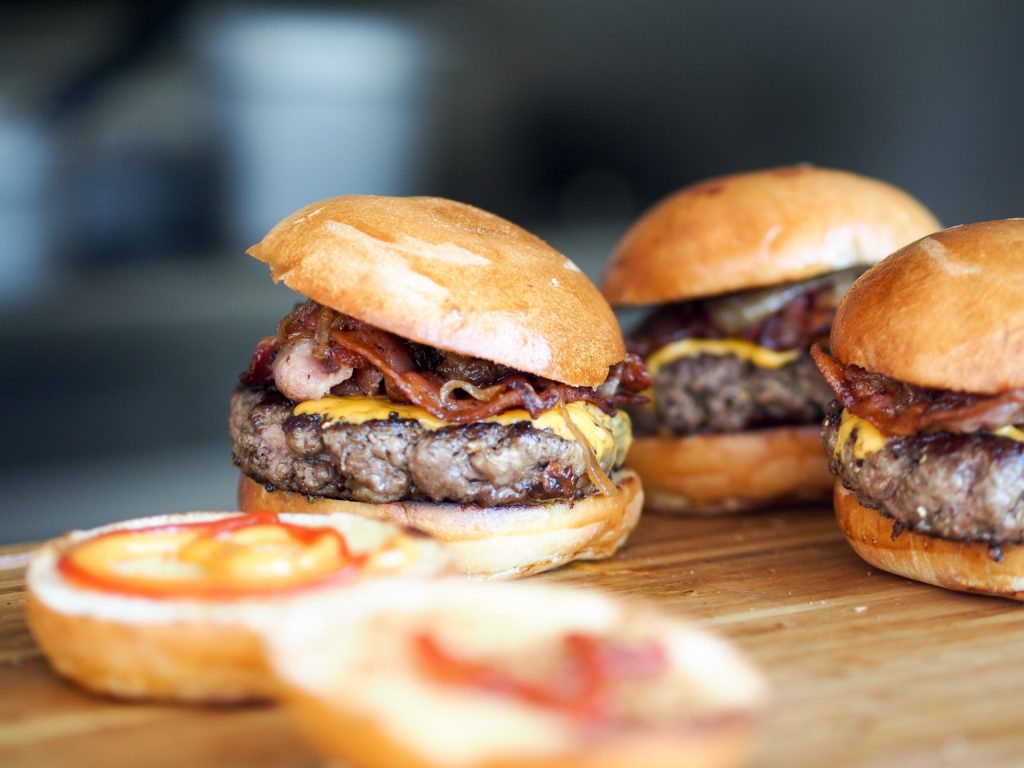 Just like when we eat out at a fast-food restaurant or a gourmet burger restaurant the price of a beef burger and fries can range from £3.00 per meal to £25.00 a meal.
So be clear on the quality of the food you wish to provide your guests.
Are you looking to provide a quick fast food meal or are you looking to serve your guest's fresh organic burgers, the answer to that question will affect the price dramatically.
Here at KK catering, we offer choices on our menus to reflect that,  from a tasty Angus quarter-pound cheeseburger with fries to a Venison or wild boar burger and Sweet Potato fries
---
Day Of The Week
---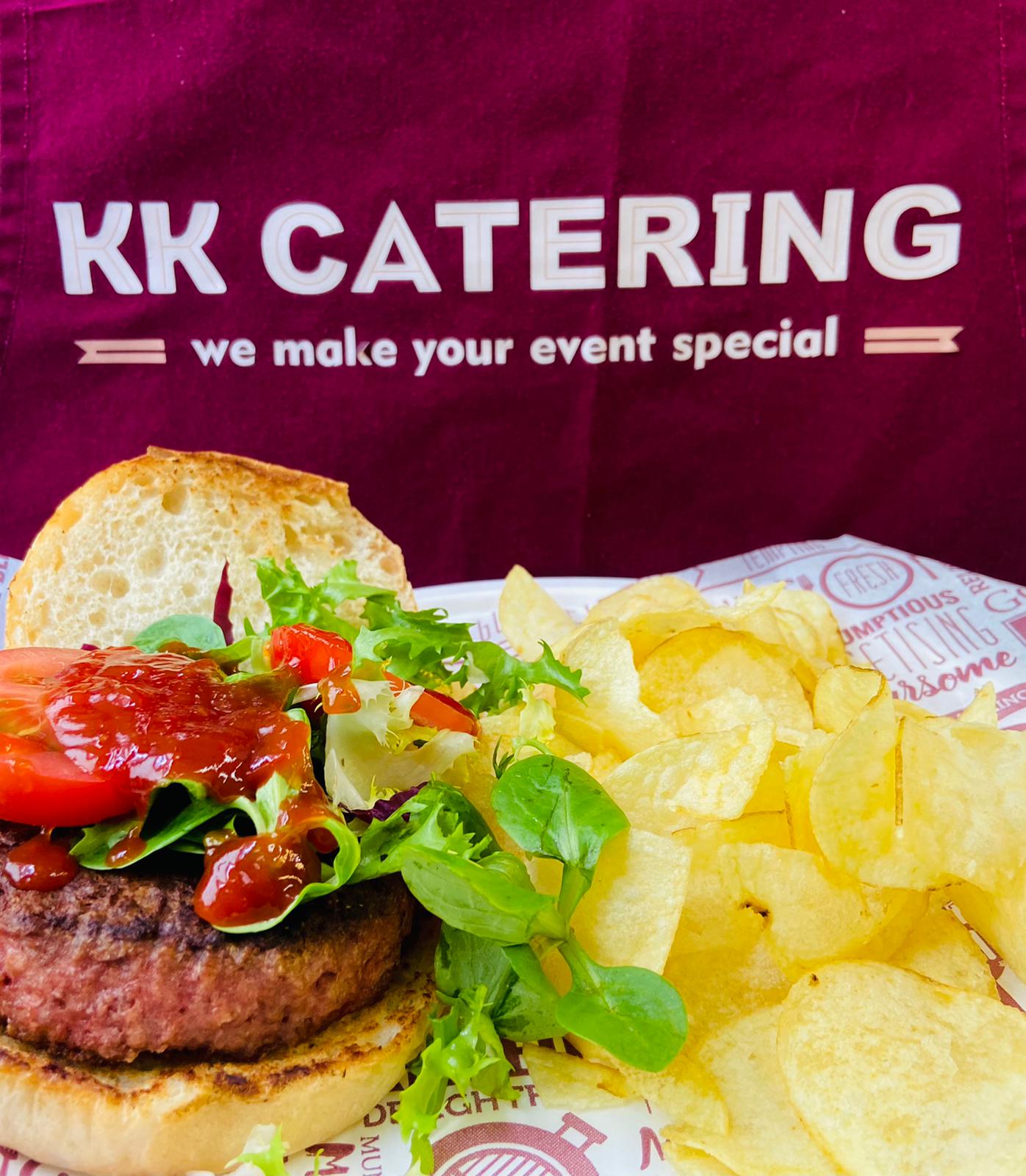 The weekday you choose to host your event will be reflected in the price you are quoted from any caterer, especially if you are looking for a burger van to cater on a Saturday evening.
Just like the extra costs charged by a venue to host your event, hiring any supplier for events will always cost you a premium on a Saturday evening.
Supply and demand is a huge driver in the cost of hiring a burger van or any caterer so if you can try to plan your event on a weekday or a Sunday for the best prices.
---
Reliability – The Size Of The Company
---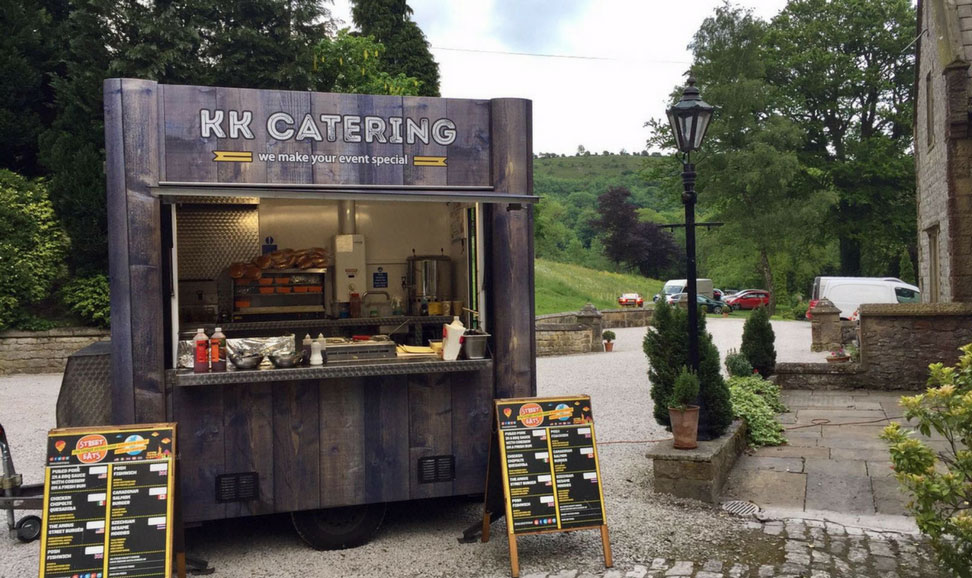 This is an important factor in your decision making when it comes down to costs and something you should take into account when choosing the catering company you wish to hire to provide your burger van.
A one-person, sole trader, with a burger van will always be the cheapest price, however, you have to take into account the risk factors involved in hiring the cheapest burger van option. 
These are the biggest risk factors to your event when hiring any burger van company
No backup burger van if any maintenance issues arise

No additional staff within the business to provide cover if the sole trader becomes ill.

Family Emergencies 

Sole trader is open to the highest bidder, i.e if a larger scale event is found they will choose money over loyalty.
In addition, you don't have to look that far back to remember the Coronavirus lockdown, here caterers shut up shop taking deposits and money with them, here at KK Catering we refunded or changed event dates for all our customers and not one lost any money paid. 
So we always recommend asking these questions before choosing your burger van company based on price.
How many burger vans do you have?

How many employees do you have?

How many locations do you have burger vans at?

How long have you been established?

Do you provide a contract with agreed terms and conditions?
Not taking these factors into account could mean your event is ruined if the burger van company does not turn up in the day and leaves you embarrassed and no food for your guests
---
Things That Should NOT Effect The Price
---
So I hope that has helped you understand many of the factors involved in answering the question 'how much does a burger van cost?'
We would also like to point out that the following should not effect the price quoted to you by any caterer however be sure to check as many smaller catering companies may take this into account and charge extra.
Type of event
Whether it be a wedding, a birthday party, funeral or a company event, the food you decide upon should never be charged based upon the type of event, the costs involved to cater do not change just because the event is a wedding.