German Street Food Catering – Bavarian BBQ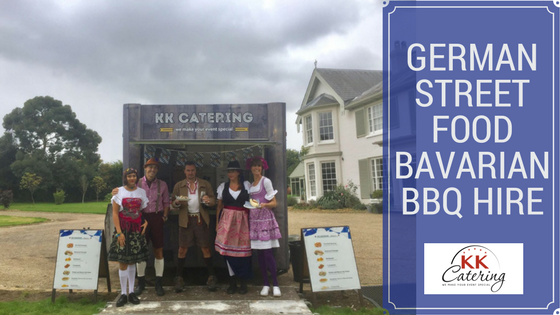 We at KK Catering are ready to bring our talents at providing German street food catering direct to your wedding, event or party. We can provide German fast food anywhere you like across the whole of the UK, and for all your catering needs.
Naturally, Germany – and in particular the Bavarian region – is famous for its love of sausage, and we offer no less than four distinct types of the traditional delicacy for you to enjoy.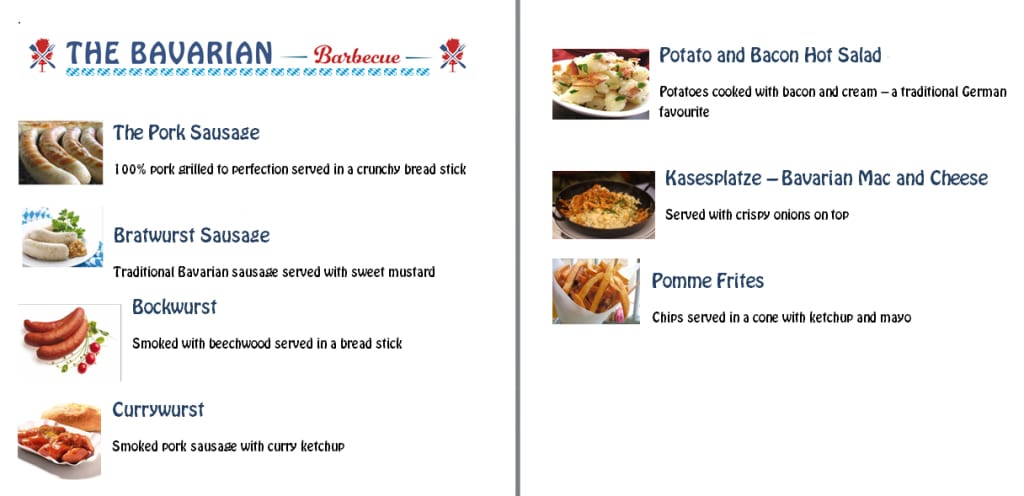 Our Pork sausage is just that – 100 percent tender Pork meat in a sausage and served in a crunchy bread stick.
Our Bratwurst sausage is based upon a traditional Bavarian recipe. 'Bratwurst' is a delicate mix of finely minced veal and fresh pork back bacon. Additional flavor is given with the addition of herbs, spices and onions, and it's served as tradition dictates, with a spoonful of sweet mustard.
We're sure you've enjoyed a hot dog or two in your time, and of course the traditional sausage in a hot dog is a Frankfurter, named after the German city in which it originated. Our traditional Frankfurter sausage is a little different though, it being smoked in beechwood for an unforgettable flavour and served in a bread stick.
If your pallet desires something a little more spicy, then give our Curry wurst a bite. It's a pork sausage that is first steamed and then fried, and served as it is supposed to be with a delicious curry ketchup.
We're not just all about sausage. We can offer you two accompaniments or alternatives. Our Potato and Bacon Hot Salad is a traditional German favourite consisting of potatoes that are cooked with bacon and cream. We can also offer you Pomme Frites – thin and crispy chips served in a paper cone with the optional additions of ketchup and mayo.
If all this has ticked and tantalised your Teutonic taste-buds, then please do not hesitate to give us a call on 0844 740 5001 or contact us for a quote. You'll discover why we at KK Catering are the masters at German food catering in the UK
Tell us about you're event and we will send you a quote.