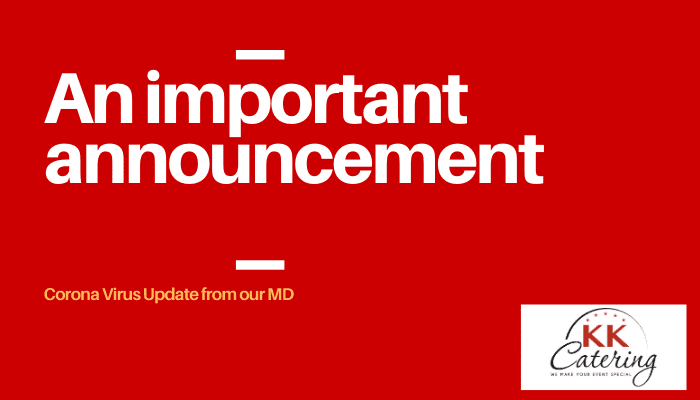 Update 22nd Feb 21: 
In line with government guidance set out on February 22nd 2021, here is the latest road map of dates.
12th April 2021: Funerals continue with up to 30 people, and weddings with up to 15 guests.
17th May 2021: Up to 30 people will be able to attend weddings, receptions, funerals and wakes.
21st June 2021: All restrictions lifted
As at all times through the pandemic Company events have no limits to numbers as long as social distancing is in place.
For the latest government advice visit
To our valued customers,
As Coronavirus/COVID-19 continues to spread throughout, many are concerned about their health and that of their loved ones. All of us here at KK Catering share that concern and want to assure you we are taking every step we can to safeguard our employees and customers, their families and the communities we serve. We are committed to providing a safe and enjoyable catering experience to you and we are strictly adhering to the recommended policies and procedures of the government and local health officials to ensure that commitment is fulfilled.
Where required we will be introducing social distancing measure and no-touch service into your booking, our staff will also be wearing facial coverings where recommended by the government.
Rest assured your deposit and balance is secure and should you need to postpone/cancel your event then any monies paid will be transferred to a future booking at any time within 2 years. We simply ask that you provide us with a minimum of 48 hours notice should you decide to cancel/postpone.
No cash refunds can be honoured at this time, all payments will be honoured on a future event within 2 years, this is to protect our company and our employees.
Should you need to claim on wedding/event insurance we will be happy to help you in completing the required paperwork.
Here at KK Catering it is our passion and drive to ensure that your event catering is a success and that remains the case now during these testing times.
Thank you for your appreciation and your custom
Kevin Anderton
MD KK Catering