Held in Munich, Oktoberfest is the world's largest Volksfest, incorporating plenty of beer, traditional German food, costumes, a funfair and more. If you don't fancy heading to Germany to take part in this year's celebrations (which take place on 17th September), why not host your own alternative party?
Beer
The foundation of any good Oktoberfest is the beer. Head to your local supermarket and you'll find a wealth of German options to choose from, or visit independent off licences for a more interesting selection. If you're going to do things the true Oktoberfest way, you'll need to invest in some steins to serve your beer in too…
Bavarian BBQ
Along with the beer, German sausages are a must! Bratwurst, Bockwurst, Currywurst… there's a wealth to choose from, and by selecting a few different options, you'll give your guests the chance to sample a variety of traditional German choices. To take the hassle out of catering, opt for our KK Catering German Bavarian BBQ van hire for a truly authentic experience.
Create the Style
Setting the scene is equally important: why not consider long picnic benches to match the traditional Oktoberfest style, maybe even located in a hired marquee (think beer tent) for authenticity? The traditional Bavarian colours are blue and white, so opt for tablecloths, bunting, flags, streamers and more in these colours.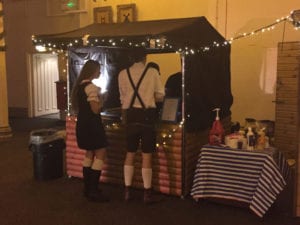 Add some Fun
If your guests are game for a bit of fun, you could even encourage them to dress in German traditional dress, which can be hired from any good fancy dress shop. Dirndls for the women and lederhosen for the men will certainly make for some great photo opportunities!
Entertaiment-wise, the possibilities are endless. When it comes to the music, have a look online for oompah band playlists to get into true Oktoberfest spirit – and consider playing some themed games, too. Why not hold stein relays, challenging two teams to make it round an obstacle course while holding full steins of water (don't waste the beer!) or outdoor games to simulate the funfair element of the festival?
Even if you can't make it to Germany for this year's Oktoberfest, it's easy to host your own celebrations at home. With good food, good drink and good fun all on offer, what's not to love?