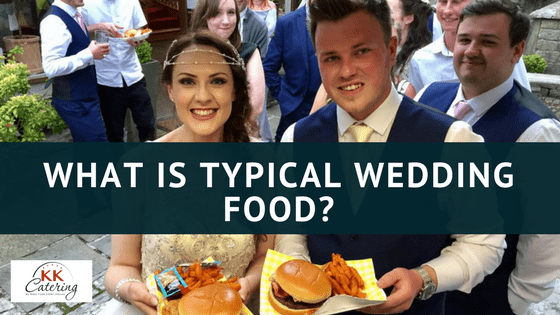 There are many well-known wedding traditions. The most popular of which include the vows, the first dance and the best man's speech. But what is the tradition when it comes to food? Well, over the years the grub served for the bride, groom and their guests tended to be a three-course sit-down meal with beef, chicken or fish as the main course. This was then followed by a piece of a multi-tier wedding cake for dessert. However, these options aren't necessarily what is typical these days. Instead, you'll now find that 'typical' wedding food is generally determined by the following factors.
---
Budget
---
For centuries the food served at a wedding has always had to fall into a budget. The rich could obviously afford to splash the cash, whereas the poor would have to tighten the purse strings. To a degree, this is still true to this day. Now that the average wedding costs in the region of £30,000 – with a chunk of that price tag covering the dress and venue – the food is typically an option that the bride and groom try to keep cheap.
---
Personality
Much like a colour scheme or the music at the wedding, the food typically reflects the personality of the two people getting married. There's no need to break the bank on a multi-course gourmet meal when you can keep the festivities cheap and cheerful with a selection of food catering vans. These days there are plenty of these to choose between – from noodle bars to baked potato van hire.
---
Season
---
When two people decide to tie the knot, they usually set their sights on a particular season in which they want to get hitched. Typically, the food that they serve up will be determined by whether they're saying 'I do' in the spring, summer, autumn or winter. From November to February, a winter warmer – like a pie and mash van – would work well. Meanwhile, in the summer something more refreshing – like a Greek souvlaki hut – would be ideal.
---
Don't confuse 'traditional' with 'typical'
---
'Typical' wedding food is simply the type of grub that people decide on time and time again – often a reflection of their budget, personality and wedding date. Don't get it confused with 'traditional' or you might lock yourself into an option that isn't very you. For more information on hiring one of our many food vans, get in touch today.