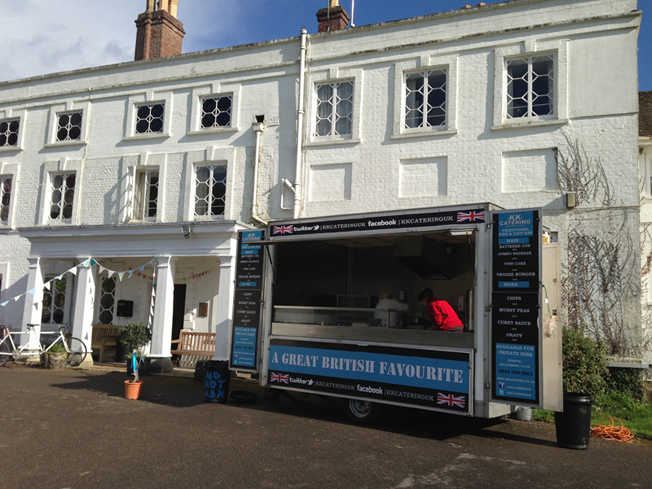 Whether you are the bride or groom, your big day is one of the most important and special of your life. Making it a memorable experience is essential, and once the dress is picked out and the venue chosen, it is the choice of catering that everyone will remember. Instead of opting for the usual uninspiring buffet, why not try an exciting alternative wedding buffet idea instead.
As weddings are a family occasion it can be hard to please everyone, so why not choose a traditional favourite and try fish and chips as a unique wedding buffet idea? This delicious dish is loved by all the family, and can help avoid the pitfalls of choosing a wedding meal that takes hours to serve and contains unusual foods that can be unpopular. With KK Catering, you can rest assured that you're not just getting an end of the pier serving of fish and chips, but are enjoying the finest quality potatoes and cod, providing you with a wedding meal that is satisfying and nutritious – this is gourmet fish and chips on the go!
Whatever the season, fish and chips are a great choice of wedding buffet. Ideal for summertime weddings, fish and chips from KK Catering can be enjoyed outdoors, with guests able to serve themselves directly if they choose. If you have decided on a winter wedding, fish and chips are also a great way to eat something tasty and piping hot, and the high quality of fish and chips on offer from KK Catering gives you comfort food with a touch of glamour. The KK Catering vans come complete with vintage inspired signs, and their friendly team offer the option of serving to your guests directly from their vans, or for something a little more formal, there is also the choice of table-service for a sit down dinner.

No matter when or where you choose to have your wedding, fish and chips make a fantastic alternative wedding buffet idea, so on your big day you can indulge in thick cut, golden chips and meaty cod in a crunchy batter. Moreover, KK Catering offer a nationwide service, and as the UK's leading fish and chips catering service for weddings, their combination of high quality ingredients and mouth water flavours will help to ensure your wedding breakfast is not only delicious, but keeps all your guests happy too.
For more information about a fish and chip van for your wedding click here