---
Introduction
---
Plan a casual way of catering for weddings and elevate the celebration with this fun, relaxed and non-traditional food ideas.
While formal, three course meals are still popular choices for weddings, they aren't for everyone. Even some celebrities choose to shun the standard wedding breakfast, Kate Winslet, for example, chose to serve fish and chips to her guests instead of a grander option. Even if you choose the full sit down meal after your wedding, you'll still need to think about catering for evening reception guests.
---
Personalized and Mobile
---
The traditional solution is a buffet of cold cuts, cheeses, salads and more, but many are turning to more funky wedding catering ideas.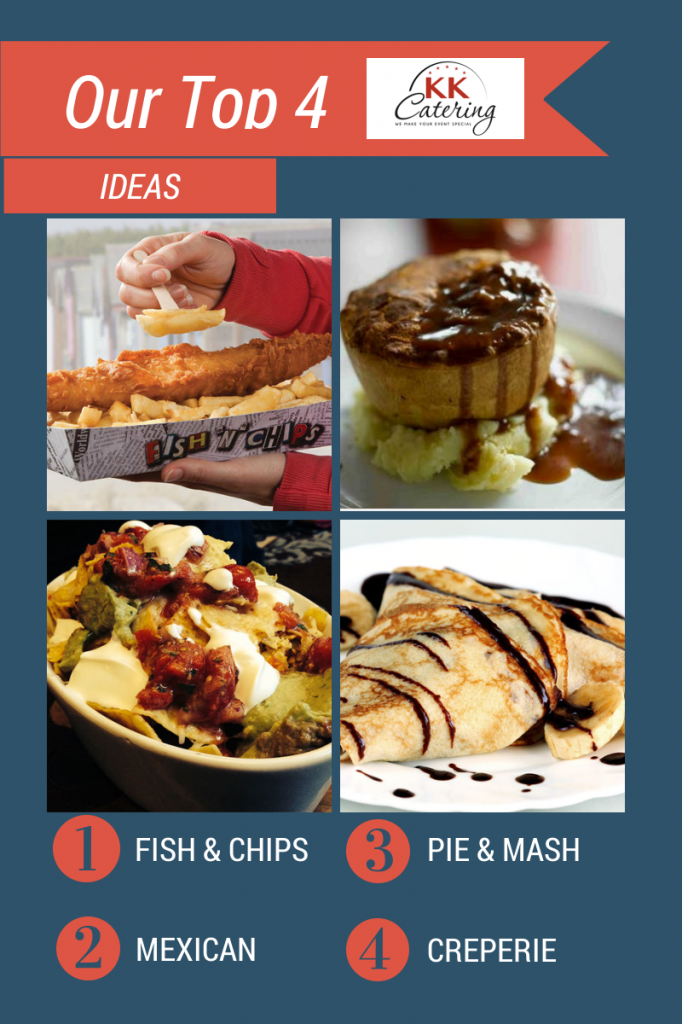 More and more happy couples are now choosing to express their personalities through the the food that is served at their wedding. Informal weddings are becoming more and more popular, and quirky décor, themes and catering make a wedding stand out, get guests excited and provide a talking point for years to come. There are plenty of relaxed wedding catering ideas to suit every theme. One big movement in the food and drink world that is currently making waves across the UK is that of street food: mobile catering units that are set up at markets, on the side of the road or at events to feed hungry customers. Previously the domain of greasy kebab vans and unappealing burgers, street food has come on in leaps and bounds to include a wide range of cuisines from all over the world.
---
Wide Range of Food Mobile Catering Units
---
A street food unit is the perfect choice for wedding catering. Guests may not all wish to eat at the same time, and with one of these units, you are giving them the opportunity to eat as and when they want. You might like to go down the Kate Winslet route and choose a gourmet fish and chip van, or opt for a gourmet burger option to soak up the alcohol that may be flowing at your evening reception. Good old fashioned London weddings are the perfect setting for a pie and mash van, or opt for a crepe bar, where guests will be able to enjoy choosing their own combinations of fillings to make the perfect sweet or savoury crepe to keep them full.
As previously mentioned, street food is not just limited to the British staples: a huge number of street food vendors have emerged, selling food and drink from a variety of far flung corners of the globe. If you and your partner have fond memories of a particular holiday destination or a shared love of a particular country's cuisine, or if your wedding has a global theme to it, then consider options such as a pizza bar, a Mexican burrito van, a noodle bar or even a Bavarian sausage barbecue to provide an alternative catering option for your guests.
If you are looking for relaxed wedding catering ideas, the possibilities are endless. Food options such as those mentioned above will create an informal wedding atmosphere, and will make guests remember your big day for years to come.