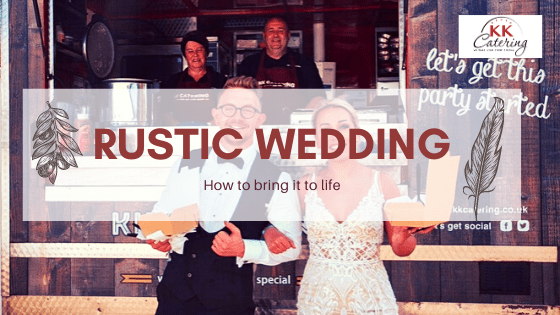 The rustic wedding trend is one of the most popular out there at the moment. It looks stunning in photos (and on the 'gram!) but also enables couples to let their personality and style shine through.
From beautiful homemade decorations to quirky food and drink, here are some of the creative ways you can bring a rustic wedding to life.
---
1. Charming venues
---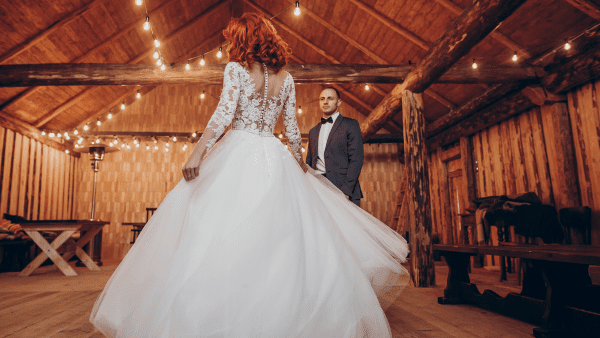 The physical space of a wedding venue often dictates the style or theme, so if you have your heart set on a rustic style wedding make sure you take a look at barns or tipis. Many barns often require little décor thanks to already having rustic charms such as exposed brickwork or wooden beams, and a tipi style marquee always looks quirky and spectacular in photos.
A lot of farms and walled gardens hire out land too, so consider contacting sites like these to explore your options. Some venues even let your guests stay on-site, so you can keep the party going into the small hours! Lots of outdoor style venues have land and facilities for guests to bring their own tent and camp overnight, or can offer bell tents and tipis for guests who prefer glamping!
---
2. Quirky entertainment
---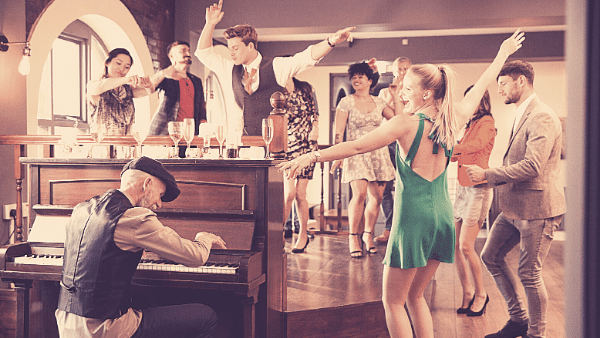 One of the joys of a rustic wedding is the relaxed environment they create, lending themselves perfectly to outdoor games after the ceremony! Lots of companies hire out large-scale wooden games such as Jenga, coconut shy, bean bag toss and giant noughts and crosses, guaranteed to keep kids AND adults entertained! You could even go all out and include a tug-of-war rope for true rustic style fun! Groomsmen vs bridesmaids anybody?!
The entertainment doesn't just have to include games, get creative and make your own photo booth using the outdoor surroundings of your venue. You could print or paint a simple frame to hang from a tree with a basket of dressing up accessories next to it for fun photo opportunities. If you don't fancy creating a photo booth, a simpler alternative is to set up a table with a polaroid camera and your guest book, so guests can stick a photo in (remember to include a glue stick or tape!) and also print a photo for themselves to take home.
For the evening party, nothing beats a live band at a wedding. There are many fantastic folk bands available to hire who will get your guests dancing and match your theme. If you want music to be a prominent feature of your day, you could hire an acoustic band to play during the ceremony. Don't be afraid to ask your band if they can match your dress code and style within reason too.
---
3. Unique food
---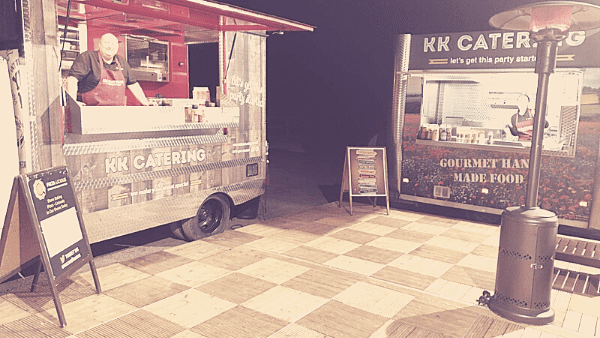 This is where a rustic wedding gets really fun; the food! Instead of being restricted by a set menu, rustic style wedding food gives you much more choice! You could have multiple street food trucks that give your guests the choice of what they fancy to eat rather than choosing a meal for them months in advance.
The mobile catering you choose can also reflect your favourite foods too, be it fish and chips, Mexican or Greek cuisine, you can pick delicious food that is filling and fun. It gives you great flexibility too, as you can have this both for day and evening meals; think delicious street food during the afternoon and fresh stone baked pizzas at night; ideal after a few glasses of fizz!
Another advantage of choosing this style of wedding food is it can be served and enjoyed outside, keeping that countryside rustic theme flowing throughout the day.
Wedding cakes have become increasingly less formal over the years and a naked-style wedding cake dressed with flowers and eucalyptus will look stunning at a rustic wedding. Not got a sweet tooth? Then take a look at cheesecakes; they can be dressed beautifully with colours that look perfect in rustic barns.
The inspiration doesn't stop with the food though, there are lots of quirky ways to serve your drinks with rustic charm.
Cocktails look fantastic served from large Kilner-style dispensers into cute jam jars at rustic weddings, and why not go the whole hog and fill up troughs or a bathtub with cold beers! If you're having an open bar it's a fun way for people to serve themselves. And, if you've chosen a paid bar, see if your venue can set up a mini bar outside to keep your guests mingling outdoors during the day.
---
4. Authentic décor
---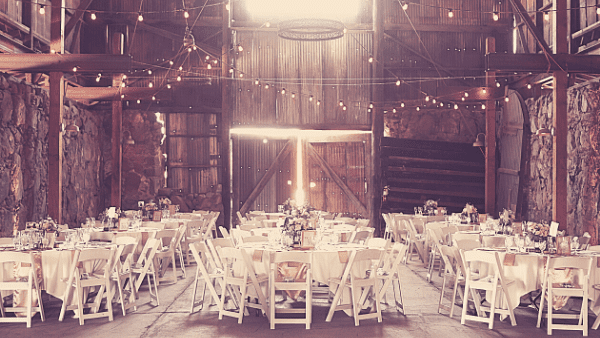 If you are choosing a colour scheme for your wedding, this is where soft colours and neutrals will really come into play. Think sage greens, warm earthy browns and soft pastels which will look elegant across your wedding stationery, outfits and decorations.
A real perk of a rustic wedding is that mismatched style looks fantastic! If you are hiring tables and chairs, opt for wooden styles and don't worry if your chairs aren't perfectly matched. A rustic theme is much more relaxed, so if you have beautiful wooden furniture don't worry about covering them with fussy tablecloths and chair covers. If you do something to protect the tables, hessian runners add an authentic feel.
The layout of your table settings can also reflect the theme of your day and you as a couple. Perhaps you would prefer long banquet tables rather than lots of little ones (and less table planning headaches!) or perhaps you might want to go even more relaxed with picnic tables and hay bales.
This relaxed theme will look incredibly romantic with lots of fairy lights and candles, but remember to check your venue's policy on naked flames and consider battery-operated candles (or even more fairy lights!) as an alternative.
Mother Nature is your best friend when pulling together rustic wedding ideas. Log slices for table centrepieces look stunning with relaxed flower arrangements on top. Go creative with your flowers, place them in mismatched jam jars and bottles, or even in spray-painted tin cans with twine wrapped around them!
Use your outdoor surroundings as part of the décor too; wrap bunting, ribbons and fairy lights in trees for beautiful backdrops for your photos from day through to evening.
For creative types who love to craft, a rustic wedding is a perfect occasion to create hand-painted signs. Using a wooden pallet to display your order of the day is an affordable and chic way to keep your guests informed throughout the day.
---
5. Relaxed bridal beauty
---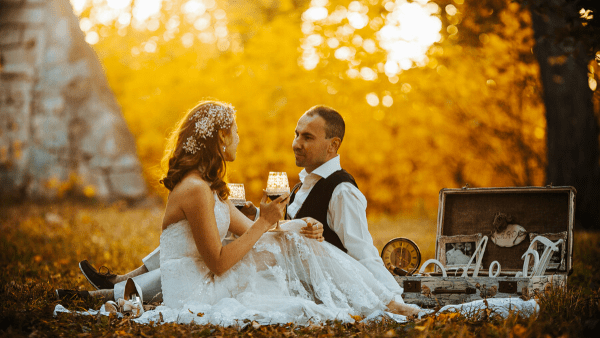 A rustic themed wedding offers lots of freedom for the bride's wedding dress and definitely lends itself to floaty, boho styles. Floral crowns or fresh flowers in the bride and bridesmaid's hair is another elegant way to bring your rustic theme together. Mismatched bridesmaids dresses are another trend that isn't going away and this style works wonderfully for a rustic theme, plus it makes life much easier when trying to find outfits for multiple bridesmaids!
If you are having bouquets, don't opt for tight, formal styles; consider relaxed arrangements with lots of wildflowers and leafy greens. If possible, see if your florist can match the bouquet flowers to those in the grounds of your wedding venue for real attention to detail.
---
6. Relaxed but chic groomsmen
---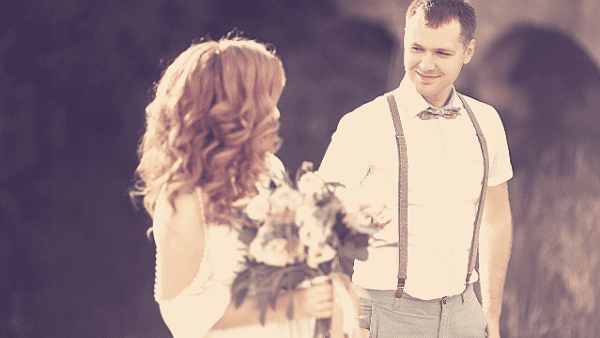 Lots of men don't enjoy wearing a formal three-piece suit, especially in summer, so a rustic wedding offers great stylish alternatives. If your groom still wants a formal look, tweed suits look much more authentic in barn or tipi wedding venues. Your groom could also try smart chinos, bow tie and a blazer for a more quirky, folk-inspired style, with groomsmen in matching chinos and waistcoats.
You can still have traditional wedding details such as buttonholes for the groomsmen but look at more relaxed wildflowers or bright miniature sunflowers wrapped in twine.
---
7. Thoughtful favours
---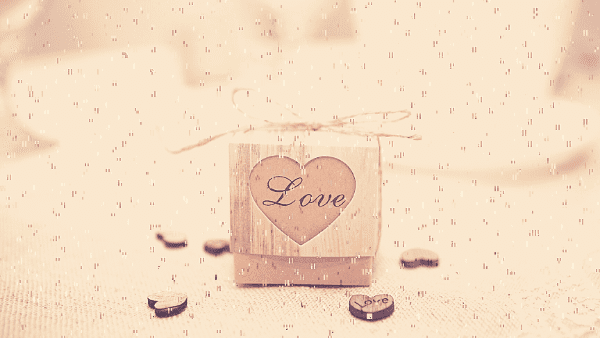 Homemade wedding favours have shot up in popularity and it's easy to see why; they add a special personal touch and are a great way to highlight the bride and groom's personalities and interests.
Food-themed homemade wedding favours are a failsafe, but check with your wedding venue on any alcohol restrictions they may have before you begin mass producing your own limoncello or flavoured gin!
If you're struggling for time to make all your favours, why not give your guests a little packet of seeds of your favourite flowers to plant at home? It's a lovely way for your guests to remember your day as their plants grow, and will also fit in all handbags and pockets so won't get left behind at the venue!
---
Get started with the food
---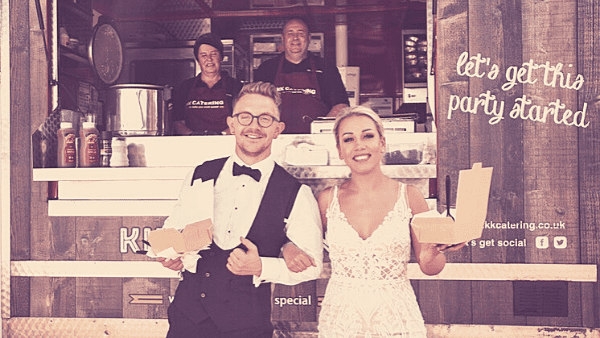 If you're feeling inspired and want to find out how we can bring your rustic wedding food to life, get in touch today to talk through the many unique options we have available to hire.