Wedding Fish and Chip Van Hire

Let us take the strain out of catering for your wedding day with our wedding fish and chip van hire service. We will turn up at your venue in plenty of time to start preparations, so the aroma of freshly cooked fish and chips will start to circulate just in time for speeches. Our experienced team will be there to ensure nothing is left to chance – giving you the peace of mind in knowing that your wedding breakfast is in safe hands.
We provide a nationwide service of fish and chip van hire for weddings, so no location is too remote. We cater for both formal and informal occasions, so if you would like a table-service meal, our waitresses and waiters will attend to your guests' every need. And if you are planning something less formal, you can let your guests come to our fish and chip wedding van for their food – adding to the fun and theatricality of the occasion.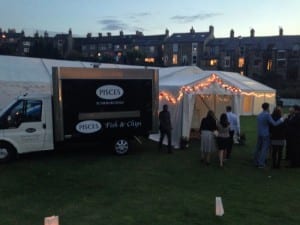 Our commitment to excellence in service, presentation and quality food has made us the UK's leading fish and chip van hire service for weddings. And because our state-of-the-art trailers and vans are strategically located throughout the country, we have been able to attend every single event we've been booked for.
Whether you are planning a wedding to remember, a staff party, a school reunion or just a gathering of friends, we can add a very different element to proceedings. Our modern equipment, fresh ingredients and years' of experience mean we can make your next big day one you'll never forget.
For more information about our wedding fish and chip van hire service, see our fish and chip van hire page
Get your Price in Real time
What our Customers say