Hire Mobile Catering Burger Vans, Fish & Chips Vans, & Street Food
Find our most popular street food mobile catering units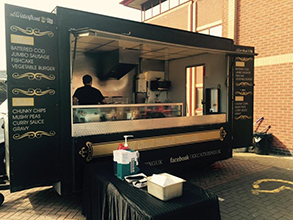 Who We Are
Here at KK catering we can help you plan the perfect event with the perfect food to accompany it, food is a major part of any get together and you need to ensure that your guests will be satisfied and enjoy their food.
We have all types of street food and mobile catering van for hire covering cuisines from all over the world so whatever type or theme of your event, party, wedding or family get together we can help create the perfect catering experience to ensure your guests talk about the food for many years to come.
LATEST ARTICLES ON THE BLOG
LATEST ARTICLES ON THE BLOG

Choosing Your Wedding Meal When Fancy Food Just Isn't You
Traditionally, weddings are formal occasions. Years ago, the whole town would come out to celebrate a young couple's nuptials. Things have moved on a lit...

Wedding Fast Food – Yes, it's a thing!
Do you sometimes wish you could just chow down on burgers or fish and chips at your wedding, instead of the traditionally fancy sit-down meal? If so, you'...

Great Tasting Street Food For A Vegan Wedding
There has never been a better time to embrace the vegan lifestyle, and not just because it's Veganuary. The country's biggest fast-food chains have...
For more information about catering services or just to have a chat about your special event contact us here or give us a call 0844 556 1250