Hire Mobile Catering Burger Vans, Fish & Chips Vans, & Street Food
Find our most popular street food mobile catering units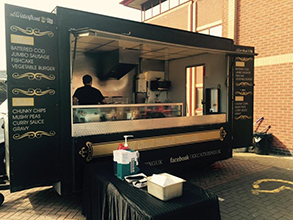 Who We Are
Here at KK catering we can help you plan the perfect event with the perfect food to accompany it, food is a major part of any get together and you need to ensure that your guests will be satisfied and enjoy their food.
We have all types of street food and mobile catering van for hire covering cuisines from all over the world so whatever type or theme of your event, party, wedding or family get together we can help create the perfect catering experience to ensure your guests talk about the food for many years to come.
LATEST ARTICLES ON THE BLOG
LATEST ARTICLES ON THE BLOG

Planning Your Office Christmas Party
Planning your christmas party can be a challenge over the Christmas period! If you want to plan the perfect office Christmas party that leaves your team buzzin...

Planning A Big Wedding With A Small Budget
More guests DOESN'T have to mean spending more money on weddings. We give you some tips for planning a big wedding with a small budget. It's possible t...
Cheap alternative wedding food options that doesn't include soggy sandwiches!
Deciding what to feed your wedding guests is probably one of the biggest headaches of the day. Not only do you have to take into account vegetarians, vegans an...
For more information about catering services or just to have a chat about your special event contact us here or give us a call 0844 556 1250