Hire Mobile Catering Burger Vans, Fish & Chips Vans, & Street Food
Find our most popular street food mobile catering units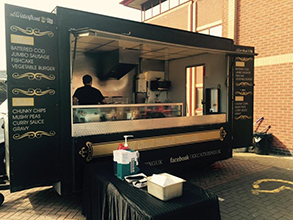 Who We Are
Here at KK catering we can help you plan the perfect event with the perfect food to accompany it, food is a major part of any get together and you need to ensure that your guests will be satisfied and enjoy their food.
We have all types of street food and mobile catering van for hire covering cuisines from all over the world so whatever type or theme of your event, party, wedding or family get together we can help create the perfect catering experience to ensure your guests talk about the food for many years to come.
LATEST ARTICLES ON THE BLOG
LATEST ARTICLES ON THE BLOG

Elevate Your Workplace with Company Perks   – 5 Reasons Why They Matter for Staff Morale
At the heart of any thriving and vibrant workplace is a team of motivated and content employees. To achieve this, many forward-thinking companies recognise t...

Boosting Workplace Morale: A Spooktacular Halloween Fun Event with KK Catering
Are you looking to rev up staff morale and infuse some fun into your workplace? Halloween is the perfect occasion to bring your team together for a spooktacula...

Grilled Cheese Food Truck: Elevating the Classic Cheese Toastie with a Twist
There's something undeniably comforting about a grilled cheese sandwich. The warm, gooey cheese oozing out from between perfectly toasted bread slices ha...
For more information about catering services or just to have a chat about your special event contact us here or give us a call 0844 556 1250