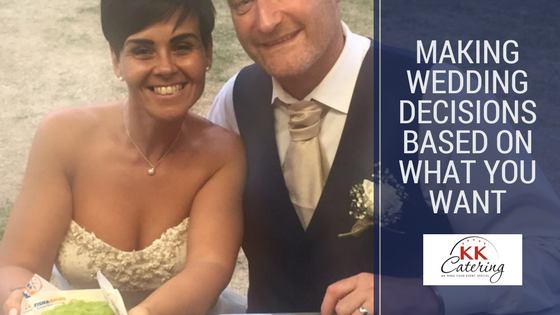 There's a long list of decisions to make when you're planning a wedding. No matter what you're choosing though – whether it's the venue, catering or flowers – the decision shouldn't be made with the intention of pleasing other people. After all, it's your big day – and it's YOU who should be happy with all the arrangements. With this in mind, here are three traps to make sure you don't fall into so you know how to make wedding decisions based on what you want.
---
Financing

---
Brides and grooms now put more money towards their own wedding than ever before. However, on average just 42% of their big day is paid for out of their own pocket, according to The Knot. Meanwhile, the other 58% is paid for by family members on both sides. You should be careful not to allow these financiers to influence any decisions when it comes to your wedding. It's instead about deciding what suits you as a couple and what will make your day perfect in your own eyes.
---
Tradition

---
Once upon a time women would get married in their teens, come with a dowry and swear to be subservient to their husband when they said 'I do'. The point is, you shouldn't feel that you should be locked into outdated traditions because the rituals surrounding getting hitched are more flexible than ever. For instance, if you're not interested in a formal sit-down meal then don't give the idea a second thought. You can instead choose a catering option that's more to your liking, such as pie and mash van hire.
---
Accommodation

---
Yes, you'll want to celebrate your wedding with all your friends and family in attendance. However, you shouldn't forfeit your dream wedding venue just to accommodate a lengthy guest list. First and foremost a wedding venue should please you and your betrothed – whether it's a stone's throw away from guests' homes or whether people will have to stay overnight. Anyone who really wants to celebrate your wedding with you (and is worth trying to impress) will surely make the journey to your venue.
---
Let's getting planning!

---
Don't forget that the food is always an essential part of your wedding day – whether you splash the cash or keep it cheap and cheerful. With this in mind, be sure to check out our affordable mobile food vans at KK Catering when putting the final touches on your big day.