Deciding what to feed your wedding guests is probably one of the biggest headaches of the day. Not only do you have to take into account vegetarians, vegans and kids, but you also have to consider your budget, and in this climate, that's usually pretty low for the majority of us.
Many brides and grooms are no longer following the traditional wedding package and booking receptions in hotels, restaurants, or other venues where the catering is provided and very costly. Now, couples are having their reception in gardens, or renting a venue that includes an indoor and outdoor space, which means they have a lot more choice regarding catering and budget.
The average wedding couple spends around £40 – £60 per head on food and drink for their guests. But fear not, we have ideas that will cost you far less than that. We are here with some great wedding catering ideas that will not cost you a kidney and won't leave you serving soggy sandwiches!
---
Fish and chips
---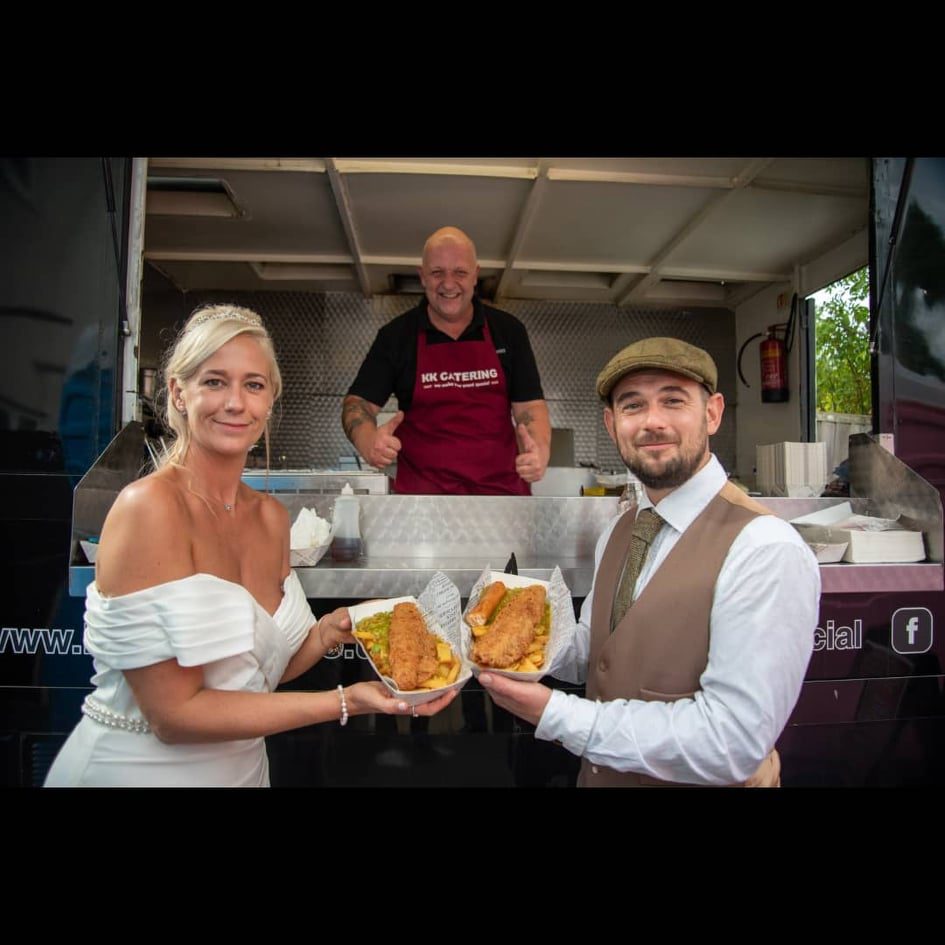 What can be better than offering your guests freshly prepared fish and chips to help you celebrate your big day? Hiring a fish and chip van means your guests can tuck into a traditional British meal that is hearty and fun. Can you imagine the aroma as the food is prepared fresh in the van? Not only this, but KK Catering fish and chip vans also offer fishcakes, sausages, veggie burgers, and the usual sides such as mushy peas, gravy, and curry sauce. Plus, it's a unique idea that will make sure people remember your big day forever, just like you will.
---
Pizza
---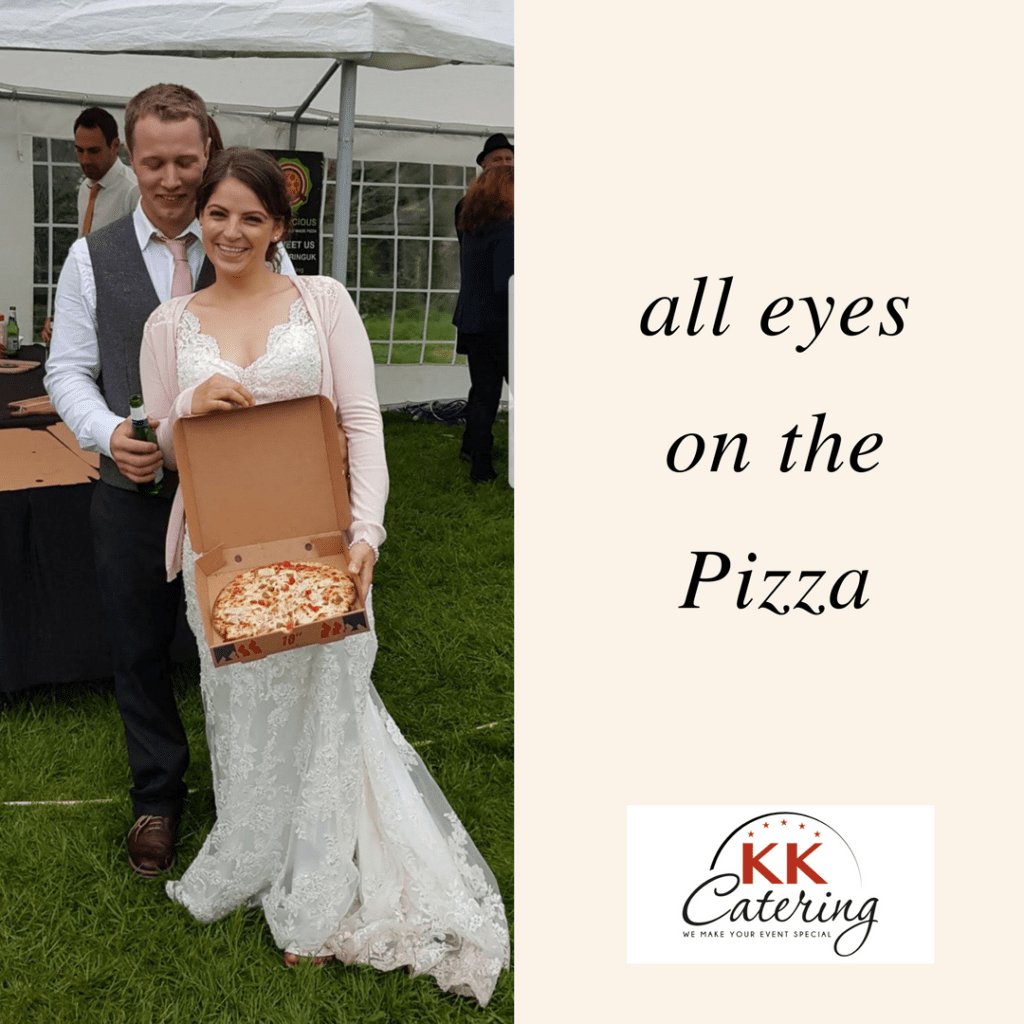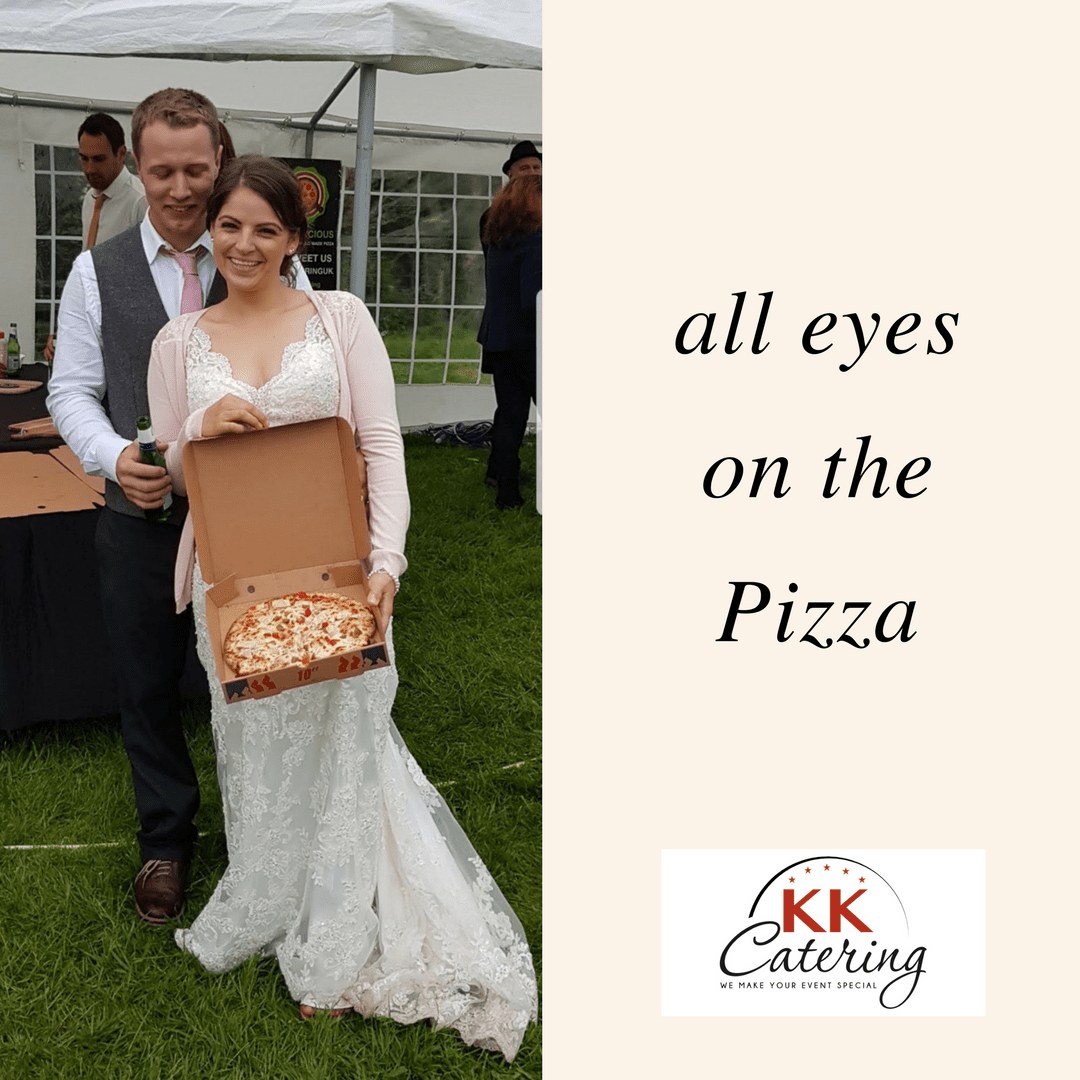 How about offering your guests a pizza? Everyone loves pizza and there is a topping to suit every tastebud. KK catering mobile pizza vans or their outdoor mobile ovens can prepare lots of pizzas really quickly, which means no one will have to wait around for ages at your wedding buffet. Not only do your guests have the option of pizza slices, but KK catering can also prepare a salad buffet from their pizza van too.
---
Greek Street Food
---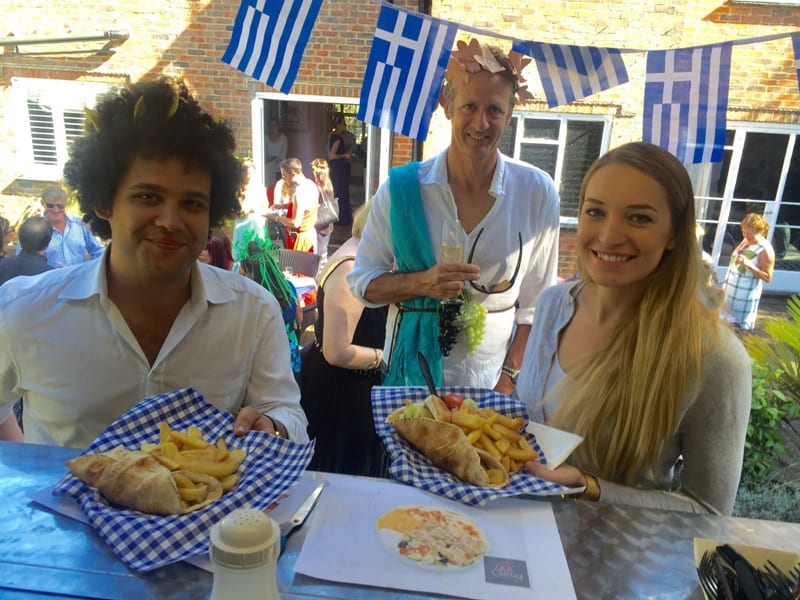 If getting married on a Mediterranean beach isn't on your bucket list, why not bring the Mediterranean to your wedding reception instead? Greece is one of the most popular Mediterranean destinations and Greek food is not only delicious but also includes a lot of vegetarian options too. The KK Catering Souvlaki hut offers all the Greek classics, including Greek salad, gyros, kebabs, rice pilaf, and even traditional Greek desserts such as Baklava and rice pudding. Your only job is to prevent the guests from becoming too traditional and decide to start smashing and spinning plates as they get into the Greek spirit.
---
Baked Potato Van
---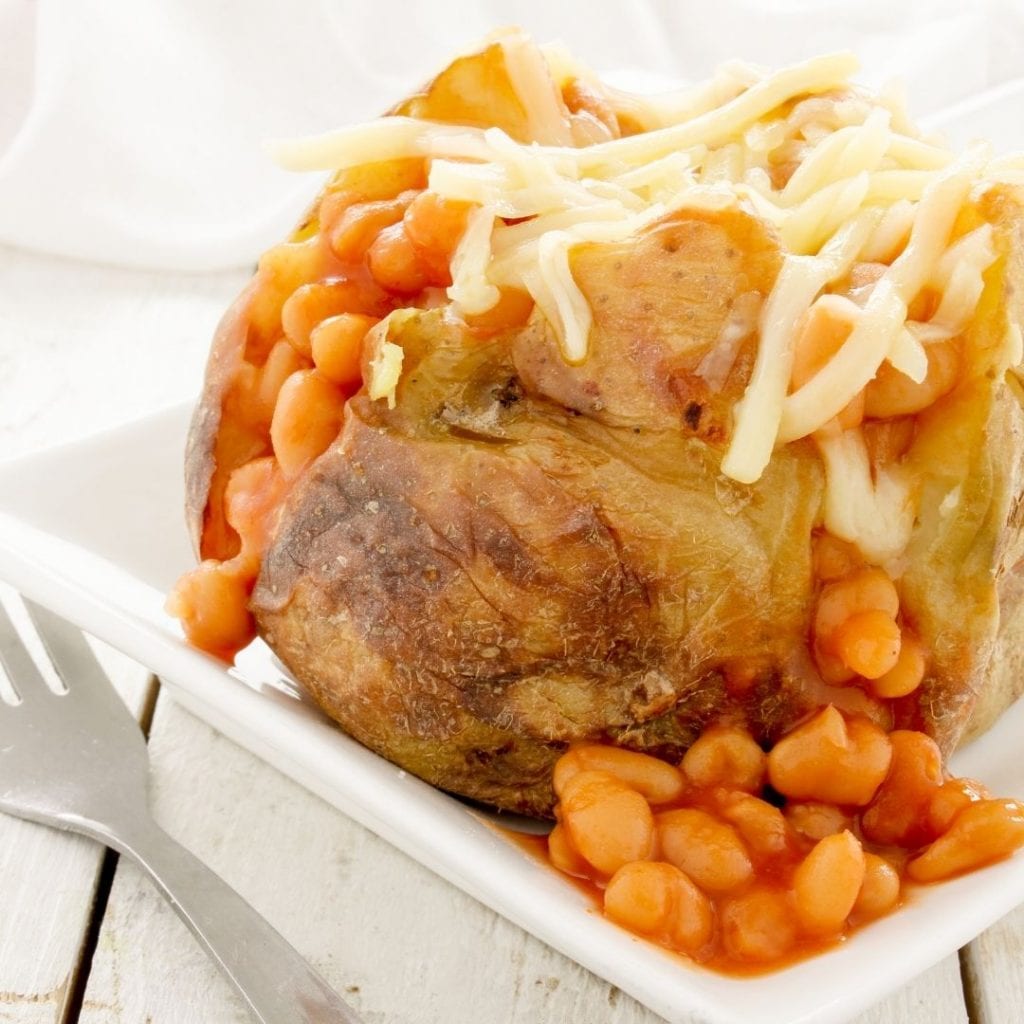 Can you think of anyone that doesn't love a baked potato? Even fussy kids will enjoy a baked potato with a filling of their choice. Guests can choose from a selection of fillings such as baked beans, cheese, chilli, bacon and brie, coleslaw, tuna, and more. You can also decide if you'd like a self-service option, or a counter service. from our baked potato van. If you decide to serve up a spud for your wedding buffet, your guests will be thrilled as well as full.
---
Noodle Bar
---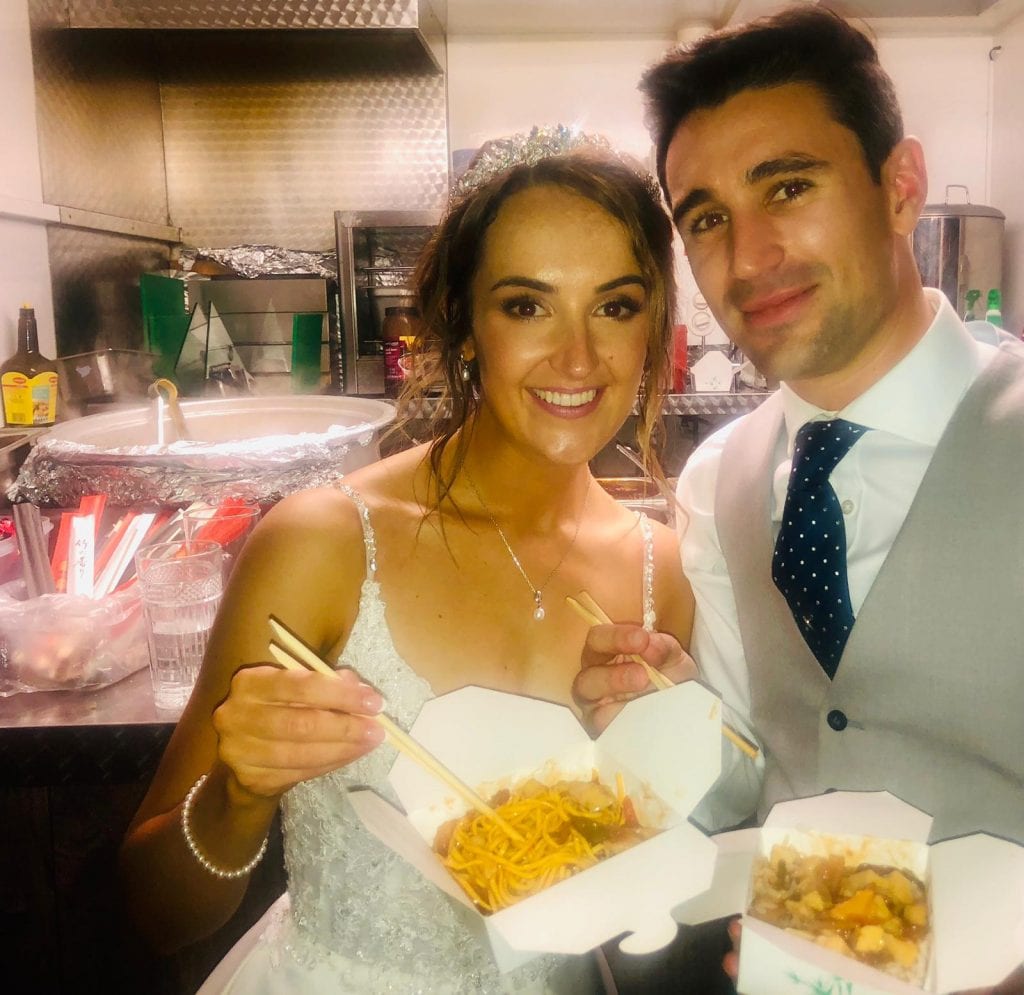 How about taking your guests on a trip to the Orient via the KK Catering Wok Noodle Box catering van? Guests can choose from a variety of rice or noodle dishes laden with vegetables on their own, or with a choice of meats, which will then be covered in a traditional Asian sauce of choice. Not only that, but KK Catering will even provide chopsticks and fortune cookies to add that extra special Oriental touch without breaking the bank.
---
Pie and Mash
---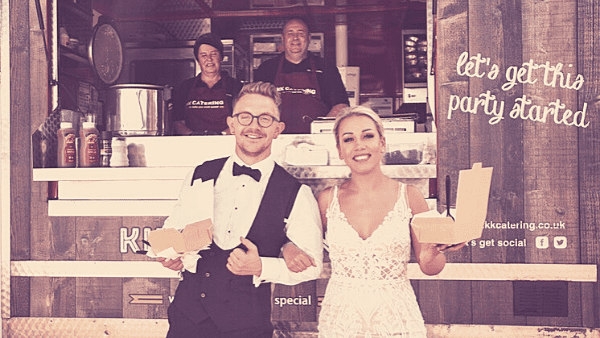 Last but not least, what about considering good old-fashioned pie and mash?  There are two menus for you to choose from to serve your guests, both offering a selection of meat or vegetarian pies. Cooked and served from a pie and mash van hire service, this catering option really is blending the traditional with the unique. Not only is this a budget-friendly alternative to a traditional sit-down wedding buffet, but it's also a crowd-pleaser!
As you can see, it really is possible to find wedding food on a budget. Not only that, but your special day will be even more special because your guests will be talking about the catering for a long time after the wedding day has passed. For more information on all other catering options available to you on your special day, take a look at our range of catering units.