Vegan Street Food Mobile Catering Hire
You may also be interested In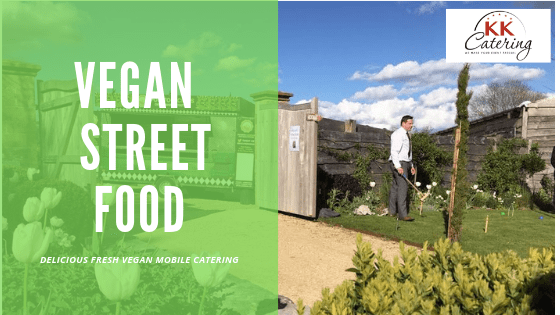 Vegan street food catering for your next big event
Are you searching for the perfect food options for your upcoming event?
Are you striving to provide an all-vegan menu for your guests, or perhaps even just some vegan options for them to try and share thoughts about?
Well, you've come to the right place.
Whatever your tastes, from spicy Mexican to classic burgers, we have plenty of vegan street food catering options available for you.
Now we have an exciting collection of vegan foods, you'll be able to give your guests everything they could have hoped for and more. You'll get their taste buds tingling with our selection.
---
Why our vegan food?
---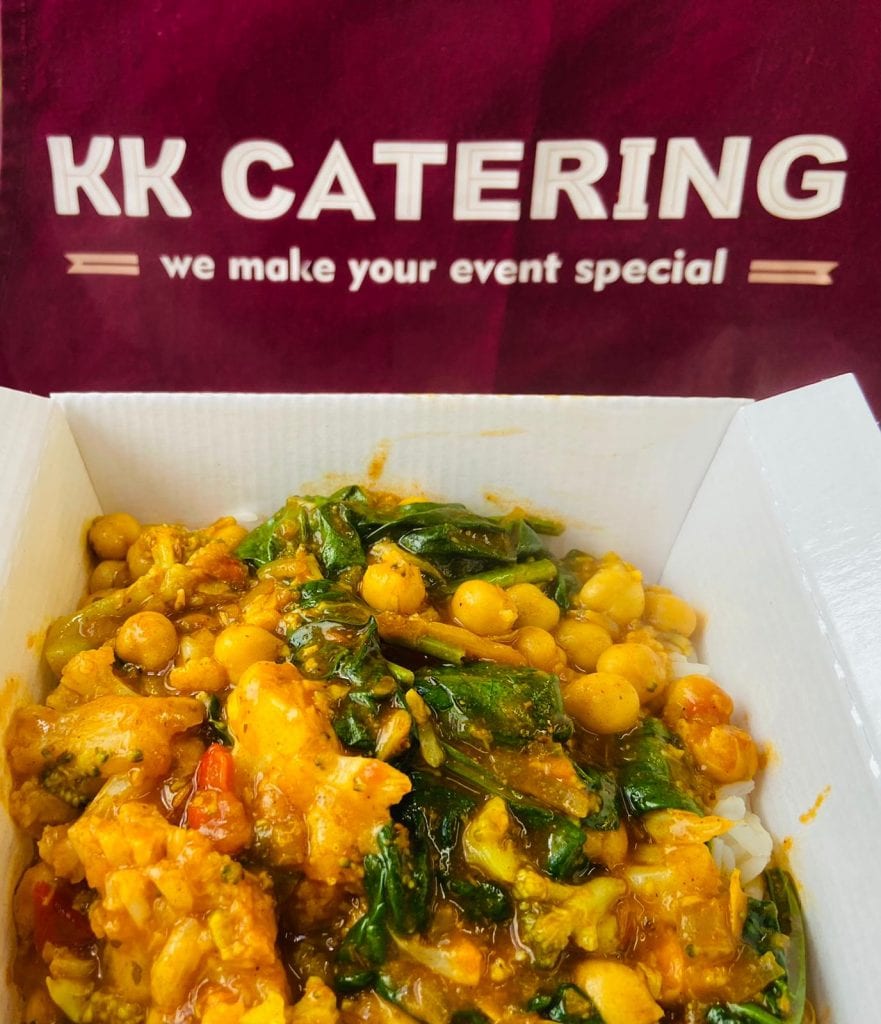 Veganism is on the rise.
The number of vegans in Britain quadrupled between the years 2014 and 2018, according to the Vegan Society. Indeed, in 2014, 0.25% of the UK population was vegan while by 2018 this had risen to 1.16%.
More and more people are turning to veganism or at least reducing their meat consumption because of the positive impact this is forecast to have on our planet and our lives.
If the entire world went vegan, it could save eight million human lives. It could also reduce greenhouse gases by two thirds, cause healthcare-related savings, and avoid climate damages costing millions.
Given these statistics, we reckon guests at your party, wedding or work event would be pretty happy with tasty vegan options to munch on.
We feel that our vegan dishes include a range of different types of foods and suit different tastes so there's something for everyone.
---
What foods are on offer?
---
We're proud of the extensive range of vegan foods and dishes we have available to bring straight to your event.
Incorporating some different cuisines, our vegan options include Mexican dishes as well as curries and burgers.
We'll bring you deliciously cooked vegetable dishes bursting with flavour.
---
What's on the vegan street food menu?
---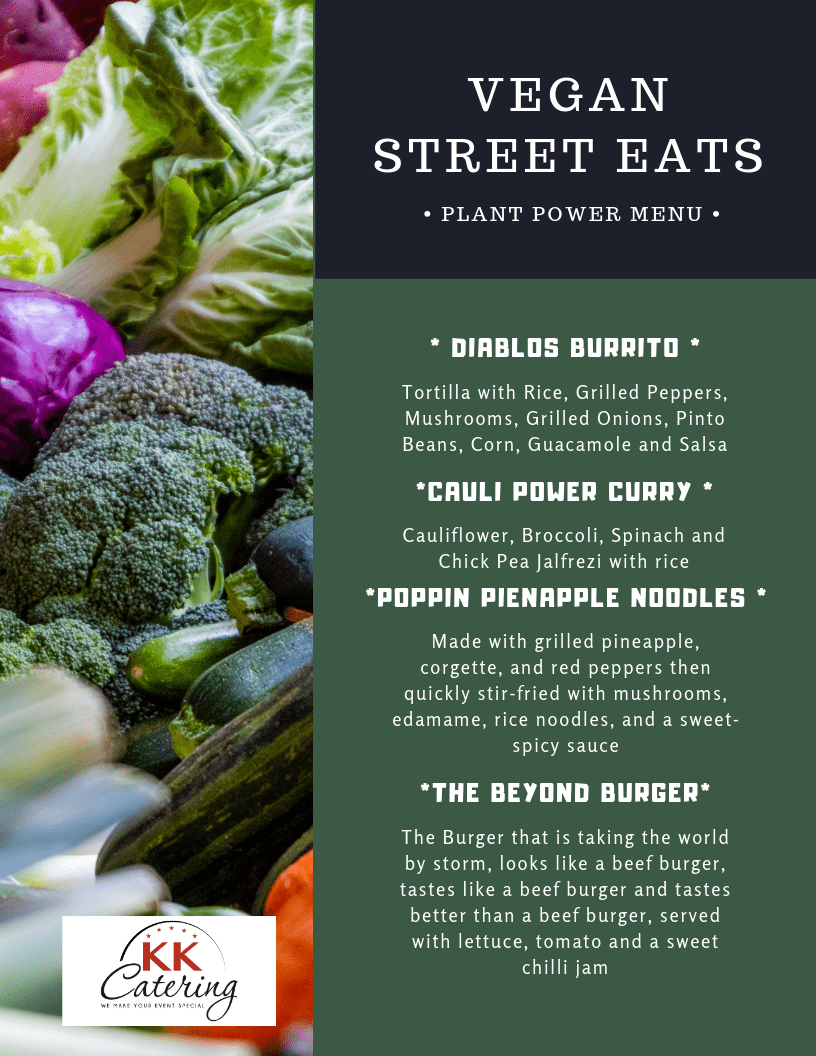 Above we've shared our full list of vegan street food catering options which give your guests the delicious option of chooising on the day what they would like to eat.
Our Vegan menu offers a taste of world wide street food to your event, our Mexican Diablos Burrito, An Indian Cauli power curry, an Asian Poppin pineapple noodle dish and a delicious American Beyond burger. All deliciously cooked fresh for your guests when we arrive at your event.
If you have any specific requirements please ask away. We will work with you and ensure you're totally happy with your food choices and our service.
---
Types of catering
---
You can organise for caterers to come along to any sort of event you need them to.
You might be going all out, searching for the perfect caterers to sort all the food for your wedding. We can certainly make sure the food and service is as special as your big day is.
Or perhaps you're needing catering for a smaller-scale event. Maybe you're holding a birthday party, leaving party or anniversary do and don't want to worry about having to prepare, cook and serve the food yourself.
There is even the option to bring our speciality vegan street food catering to your company function, including lunchtime buffets, we can provide food for your business event, launch or promotion.
---
What events do we cater for?
---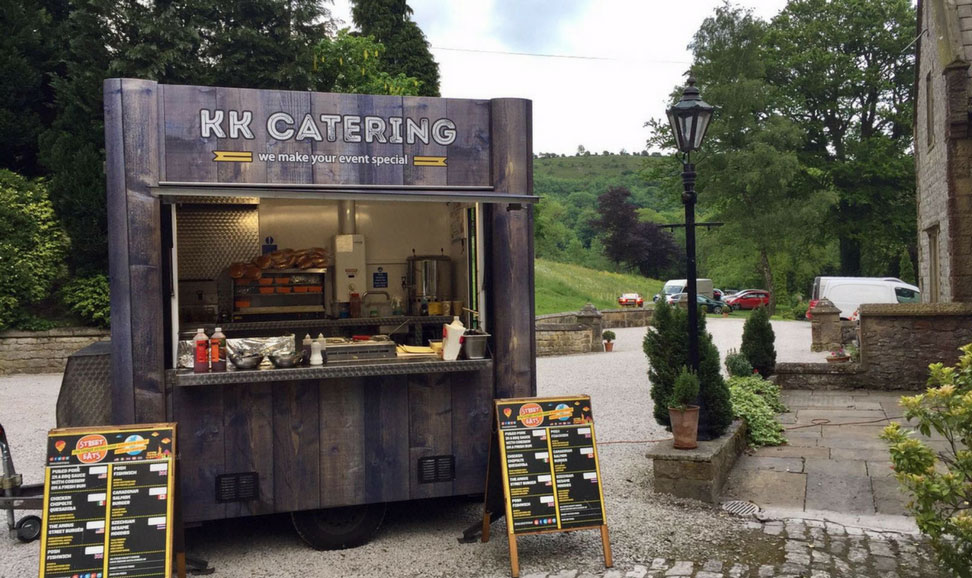 If you're thinking about hiring our catering services for a business event or purpose, we're not picky about the industry you're working in!
You could hire our mobile catering units straight to your place of work to feed your hungry staff and make sure they deliver their best work!
There's even the option of hiring us at the last minute.
If you're suddenly panicking about food for your upcoming event, even if it is tomorrow, don't hesitate to get in touch.
Our mobile catering units can travel anywhere in the UK, straight to you so you don't have to worry.
The types of events we typically cater to include weddings, parties, family get-togethers, shows, and professional events such as product launches and networking sessions.
If you're interested in hiring vegan street food catering for your upcoming event please don't hesitate to get in touch with someone on our team. We're a family business and we love helping people create an event they're proud of.
Give us a call if you'd like to have a chat about our catering options or drop us an email if you'd rather.
You can even use our online Get A Quote tool if you would like to start working out how much it will cost.
Get your Price in Real time
What our Customers say