What do wedding caterers provide?
Every wedding needs food, but not all wedding caterers are created equal. At KK Catering we know a thing or two about providing delicious wedding food that goes down a storm with guests, so if you're wondering what to expect from a wedding caterer and what they should reasonably provide for you big day, read on!
---
The practicalities
---
The biggest thing a wedding caterer should provide is a menu that suits your tastes down to the ground and satisfies your guests too. Choose a caterer who is willing to be flexible and is experienced enough to give you all the insider information about the dishes that go down the best with hungry wedding guests.
Be sure to also ask questions about the little details: how will food be served and presented? Is cutlery provided? Serviettes? Extra condiments? Can they cater for special dietary needs? A good caterer should be able to provide everything your guests need to eat in comfort.
You'll want your wedding day to be totally stress-free, so be sure to choose a accomplished caterer who will take care of your every need without a hitch.
---
The atmosphere
---
If you're planning a themed wedding, out of the ordinary catering can really help to add some extra sparkle to the atmosphere.
Will your day be an outdoor, fairground-inspired shindig? Burger van hire is the perfect choice; nothing says summer fayre more than the scent of fried onions and the taste of a classic beef burger. Opting for a Mexican fiesta? Your guests will love tucking into authentic grub from a Mexican burrito bar. Do you want your wedding to be the biggest and best night out of the year? Go for bona fide party grub with a classic kebab van!
Whatever you want your wedding to say about you, the right wedding caterer will help you showcase your personality perfectly.
---

The memories
---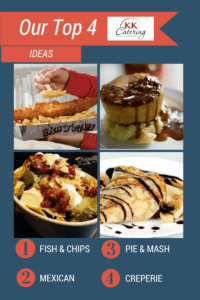 Every bride and groom want their wedding to be the most memorable event their guests will ever attend, and the food plays a huge part in that. Don't get us wrong, we love a formal, silver-service three course meal every now and again, but the weddings that always stand out are those which break from tradition.
People will be talking for years about the wedding that went for a fish and chip van hire over a roast dinner. They'll love watching their stone-baked pizza being cooked before their very eyes, or seeing an oozy, chocolatey crepe being freshly prepared just for them.
A quality wedding caterer will provide that extra touch of showmanship and uniqueness that will cement your big day in your guests' memories for life.