Please wait. We are submitting your request..
Unique Party Catering Ideas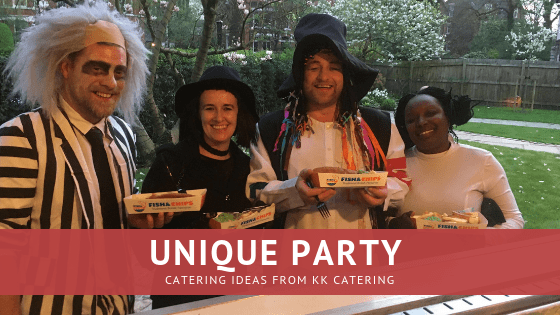 ---
A Party to Remember
---
If you're planning a party to remember, then choosing the right food should be top of the menu.
KK Catering operates nationwide to provide unique party catering for every occasion. Whether you're planning a birthday party, a bar mitzvah or a festive occasion, our chef-created menus will add a little something special to any event.
Good food is a real talking point, and we offer a huge range of bespoke catering options which are sure to spark a conversation!
So dare to be different and take a look at some of our quirky party and birthday catering ideas.

---
Spice up your celebration with street food from around the world
---

KK Catering offers top-quality street food from all over the world, so there are plenty of fantastic options to choose from. Each of our state-of-the-art mobile units is kitted out to cater for your chosen food and can travel nationwide; and as we bring the kitchen with us, we can be totally flexible to meet your requirements!
Our Kantina Diablos cooks up the finest Mexican burritos and quesadillas, while our Creperie conjours up the spirit of France with a selection of sweet and savoury crepes. These choices are fantastic whatever time of day you're celebrating, with breakfast options available!
If you'd like something a bit more British, worry not- fish & chips, pie & mash and piping hot baked potatoes are all on the menu too!

For the beer-loving party crowd, the German Bavarian Barbecue offering is a great choice, with a selection of delicious wurst and for your guests to choose from.
We also offer the all-American hot dog and pizza for the perfect party snack and, after a long night of dancing, who doesn't love a good burger or kebab? We sure do, and they don't come better than ours!
---
Let's get this party started
---
Head over to our units page to see our full list of options for your perfect party food, and if you would like to get a quote all we need form you is a few bits of information about the party you are planning, such as the date, time and location.
Complete the form here on this page for a quote within the hour and take the 1st steps to making your event special.
Get your Price in Real time
What our Customers say