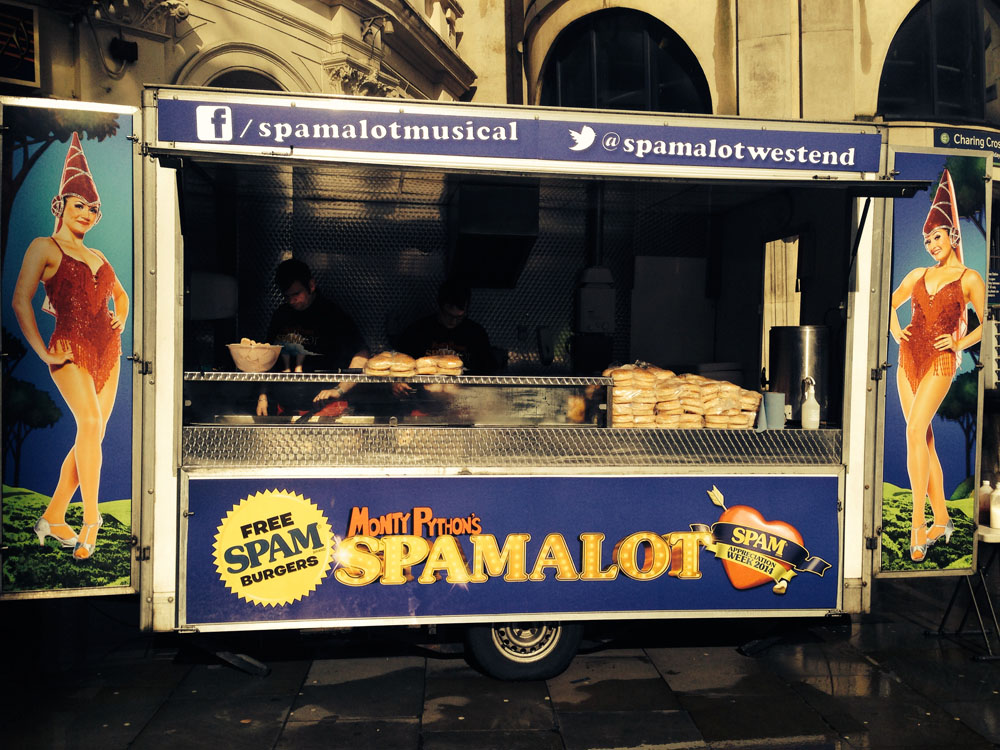 Promotional Campaign for #SPAMAPPRECIATIONWEEK
High quality catering company KK Catering teamed up with Boom Ents during SPAM Appreciation Week, providing members of the public with free SPAM burgers to mark the occasion.
Experts in promotional catering KK Catering were stationed outside the Playhouse Theatre in their SPAM Van: a mobile catering unit liveried in Spamalot branding to mark the tie in with the Monty Python production. Theatregoers were treated to entertainment from members of the show's cast while queuing for their free SPAM burgers, which were cooked up and served by promotional caterers from KK Catering in SPAM branded hats and Spamalot t-shirts.

First introduced in 1937, SPAM is a canned meat product that has seen varying levels of popularity since its launch. Monty Python production Spamalot is a musical comedy loosely based on Monty Python and the Holy Grail – the 1975 feature film. The link with SPAM comes from a popular Monty Python sketch that was first televised back in 1970, featuring two café customers attempting to order breakfast from a menu that includes the tinned meat product in almost every dish.
SPAM Appreciation Week – an annual celebration of the well known foodstuff – began on March 3rd, with companies and consumers all over the world demonstrating their love for the product. UK-wide leading mobile catering operators KK Catering were approached to take part in the Spamalot promotions, serving up SPAM burgers to the hungry crowd. With queues of hungry diners gathering outside the van, the crew attracted a great deal of attention on the streets – and also captured the public's attention online. A great deal of interest was registered via social media services such as Facebook and Twitter, where the word of KK Catering's presence spread like wildfire.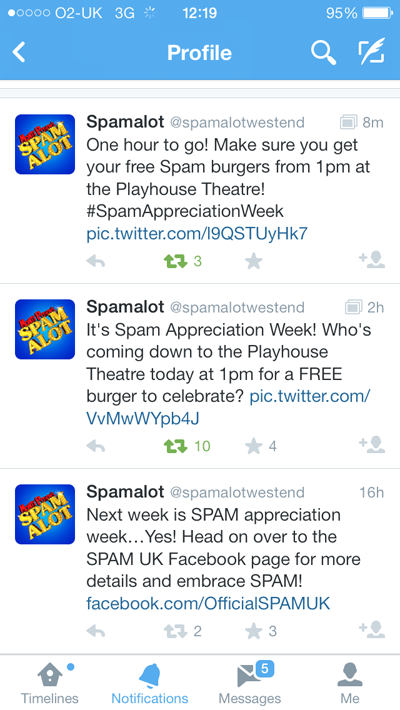 word of the promotion spread thick and fast on social media channels throughout the day.
Kevin Anderton – MD for KK Catering said, "We were delighted to team up with Boom Ents to provide a promotional burger van to promote SPAM Appreciation Week. Giving away free SPAM burgers outside the playhouse theatre in London where the Monty Python production Spamalot is playing created a real buzz and excitement around SPAM. We were excited to play our part in promoting both SPAM and Spamalot."
KK Catering offers a wide range of mobile catering and street food units to suit all events. From pie and mash to pizza, and burgers to burritos, the company offers a nationwide service for weddings, festivals, parties, carnivals and all manner of other events.