---
Creating Your Memorable Wedding Foodie Moment
---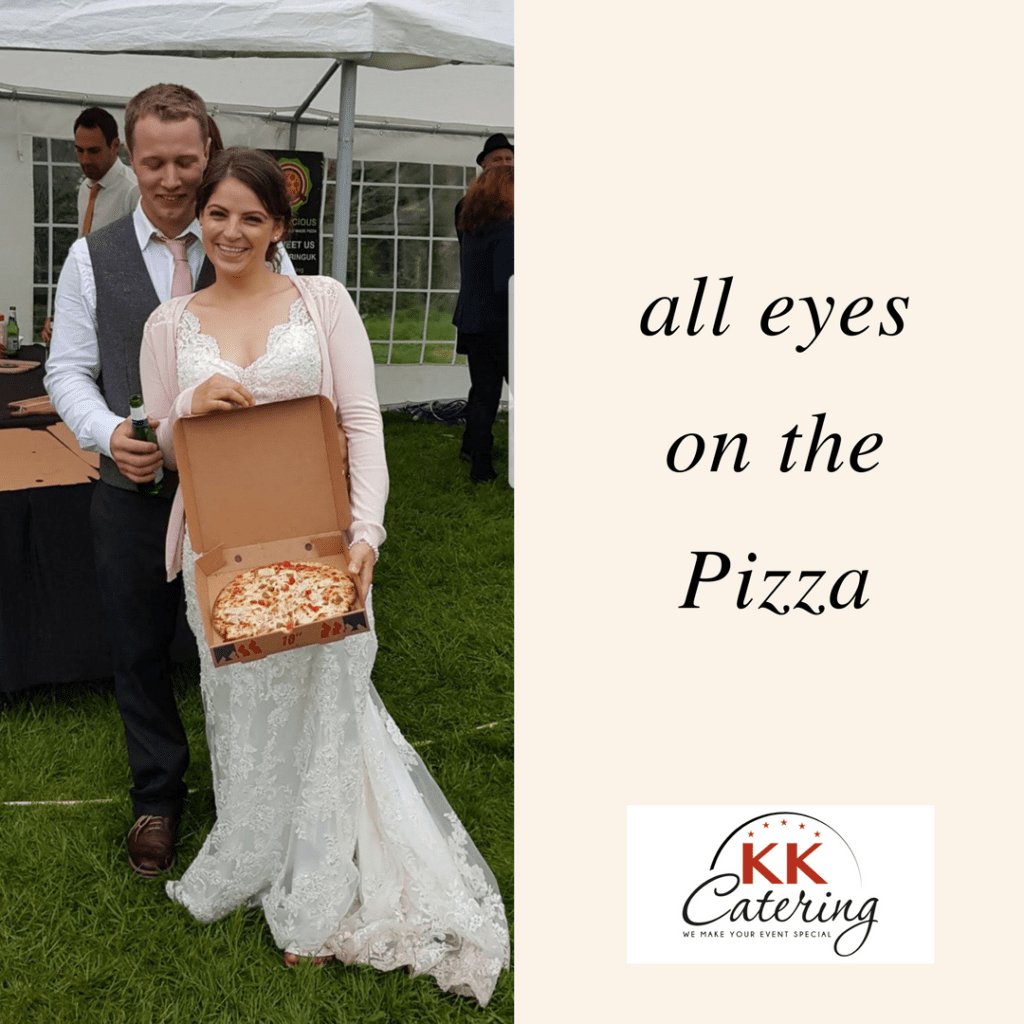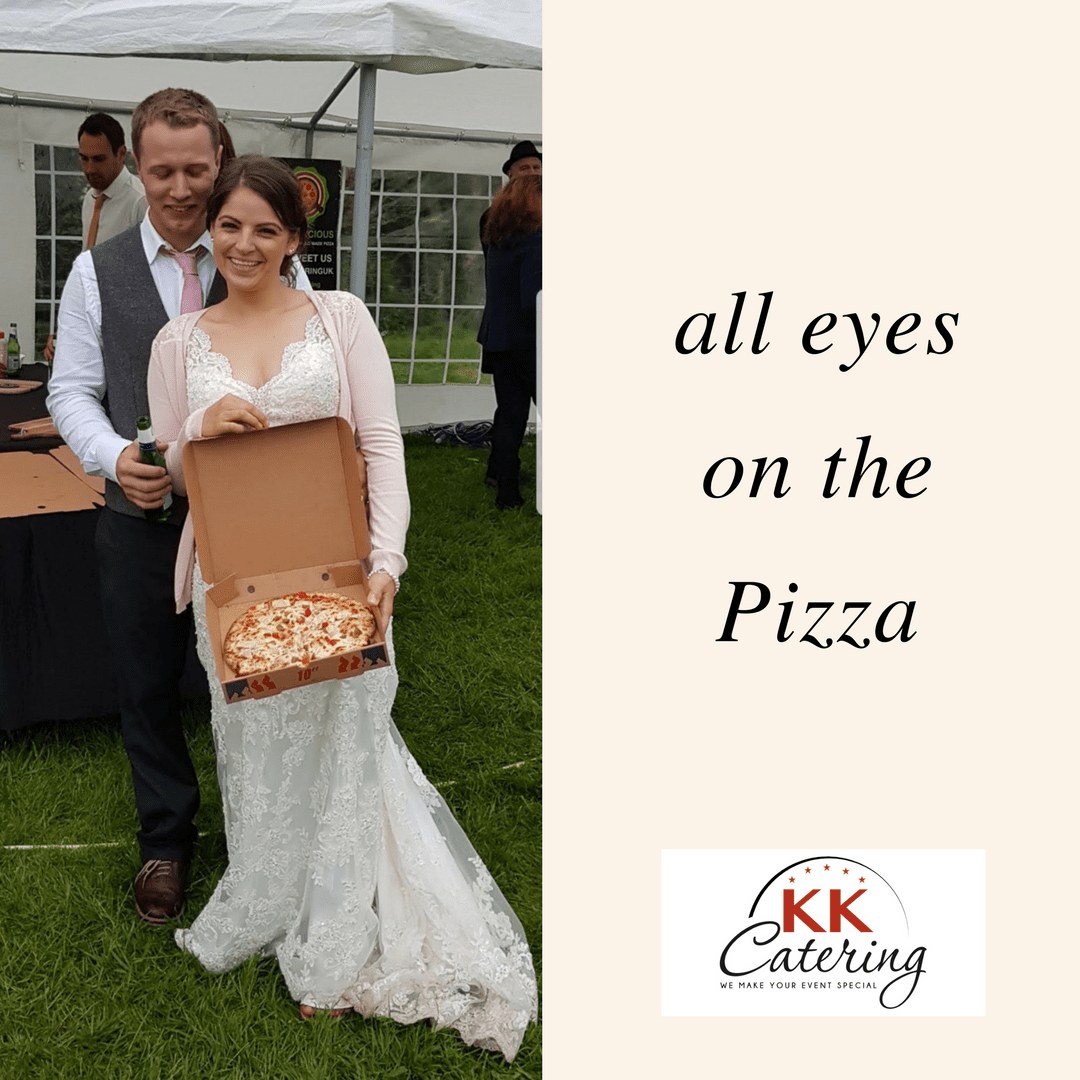 It's your special day, and perhaps you feel the standard sandwich and snack buffet on its own won't give your guests that extra "wow" factor you want. So, here's a terrific way to offer them something extra, bringing a smile to their faces and a great taste to their lips.
Just imagine as they suddenly chuckle when they first spot our wedding pizza van parked up at your reception venue. Who doesn't love pizza! But even better than just the food itself, we serve it freshly cooked and piping hot in a proper pizza box, and with a big smile – and maybe a serviette, which still won't wipe the happy smile off your guests' faces.
---
How Your Superb Wedding Day Pizza Delivery Service Works
---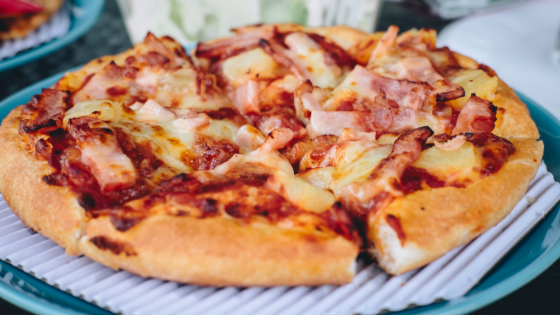 When the time comes, your guests can enjoy those brief moments of anticipation as they watch – and smell – our delicious, authentic, fresh pizzas, tops bubbling, as they are baked in our traditional stone baked pizza ovens. We offer everything you can expect from a pizza (in seven, nine or full twelve-inch options).
There's the legendary Pepperoni oozing with bubbling mozzarella, the Margherita with its rich tomato sauce and oregano, or a ham and pineapple packed Hawaiian. There's a choice of our own signature pizzas, such as the Napolitana with lots of flavoursome olives, or the ham and pepperoni laden Caprice. As you would expect, we also offer a Vegetarian option, groaning with mushrooms and peppers.
---
Added Your Special Touch
---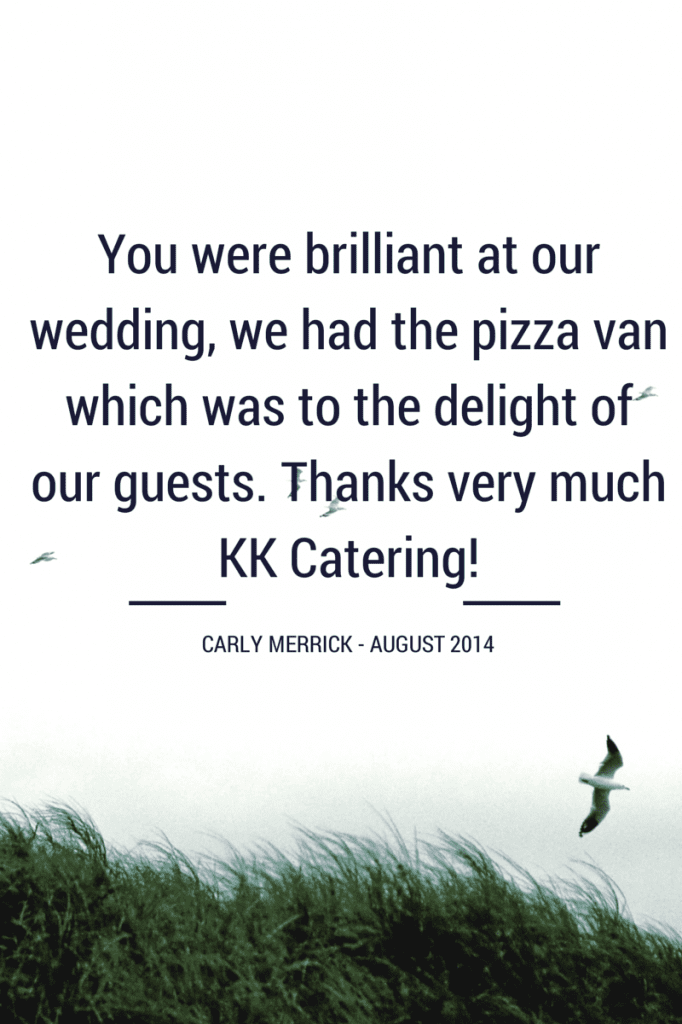 Of course, these are only our menu suggestions. Why not plan with us in advance to create your own tastes and flavours with some unique wedding-day pizzas. To add to the fun theme, you can even give them special names if you wish!
---
Midnight Feast
---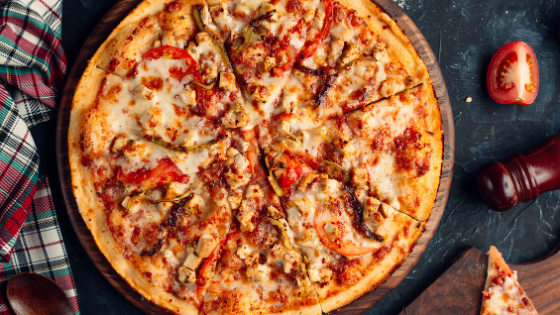 As an alternative to serving our pizzas as part of your buffet, how about a late-night treat for your evening guests? Imagine as they head off into the darkness, cheerily munching on their surprise pizza from its authentic box – the final happy memory of a terrific day!
---
The Bit About Us
---
Here at KK Catering, we are hugely experienced as important events caterers – events just like your wedding. Our hard-working and cheery team know what it takes to help make the day special for you. We care about the food we provide, using only the finest and freshest ingredients, which are then cooked with care and delivered with style. All this is backed up by our receiving the highest possible 5/5 food hygiene award from the Food Standards Agency. Sorry, we can't do anything about those pesky hangovers though!
---
Those Special Wedding Memories
---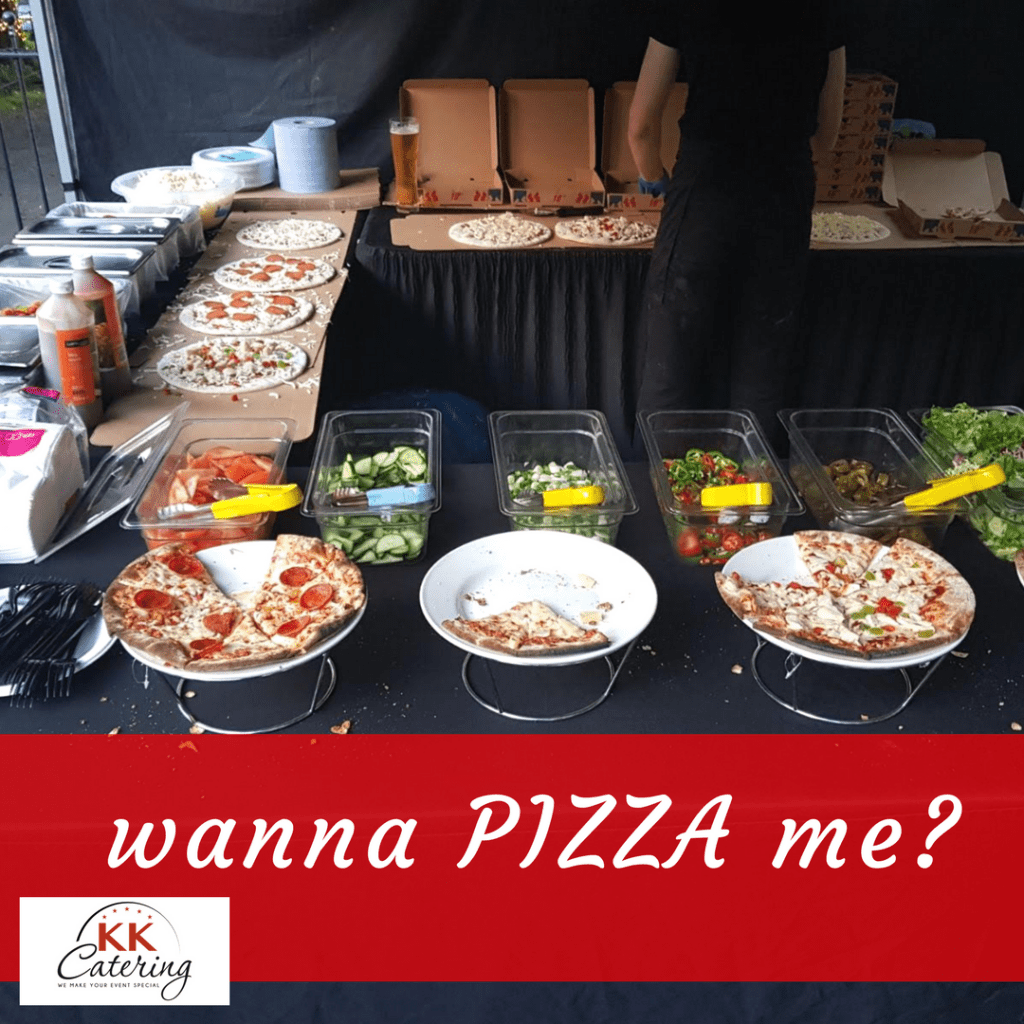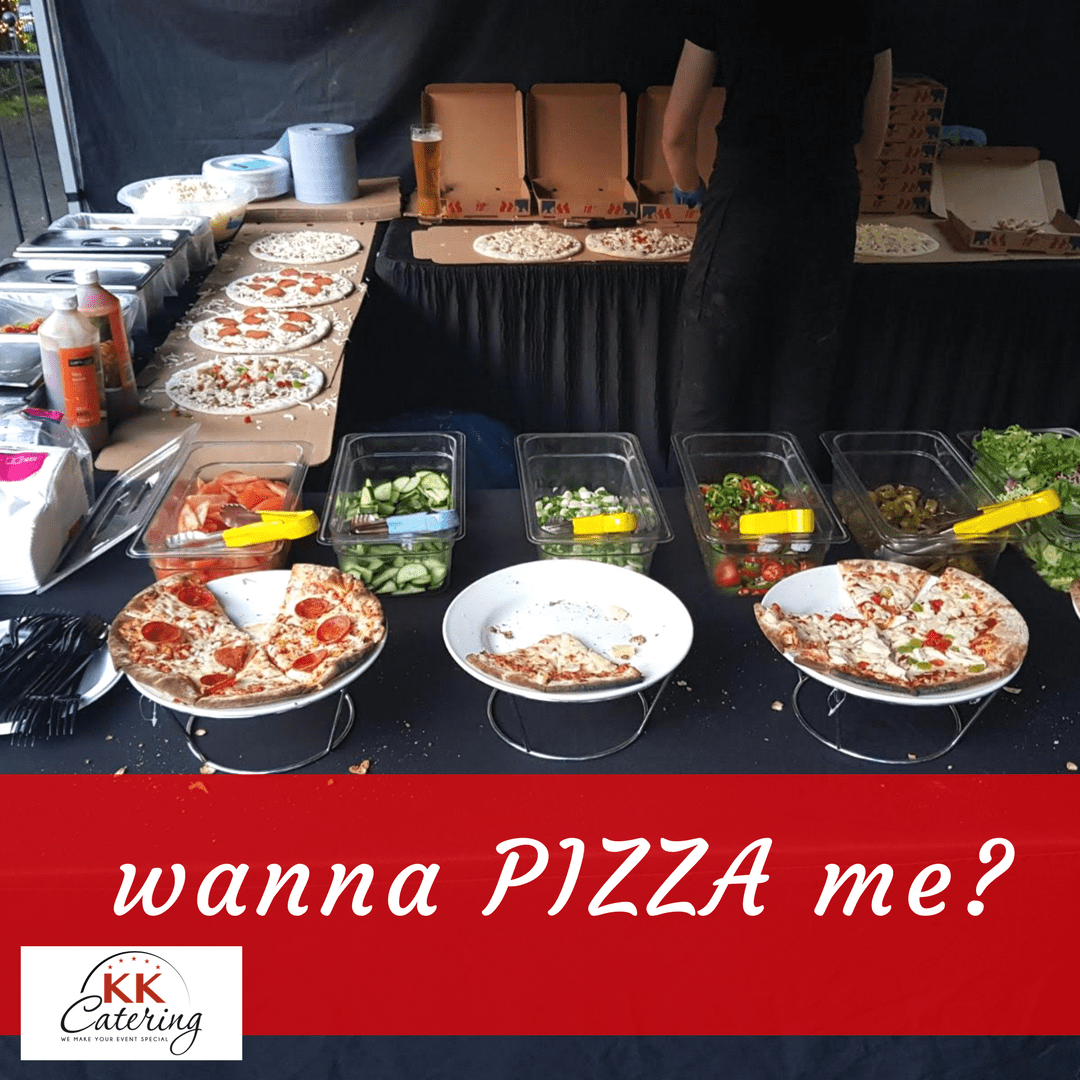 When your guests are asked about the day, they'll comment on how beautiful the bride was, that the groom looked a little nervous, the best man's speech was really funny, and the bridesmaids looked gorgeous. Then, with a grin, they'll say: "And you know what? There was this wonderful wedding pizza delivery van…"
We're available every day (and night) of the year. So, to find out more about how we can help make your special day that little bit more fun, please get a quote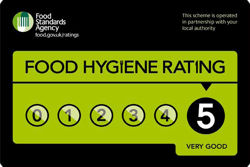 ---
KK Catering has been awarded 5 out of 5 for Food Hygiene from the Food Standard Agency
---