Nowadays, the price of weddings can mean hefty credit card bills, long term loans and family borrows.
The price of getting wed, however, does not need to mean 10 years of financial pain afterwards and we are here with ways to save up to £5000 on your wedding day.
---
Invitations
---
Although a traditional wedding would suit a lavish invitation professionally designed, why not embrace technology and create a facebook event? you could have 1 group for the daytime guests and another to invite your evening guests, for grandad and grandma, send them a save the date text message (or a what's app if they are tech savvy)
Saving of around £3 per invite
---
The Day
---
Getting married on a Saturday can be up to twice as expensive as getting married on a Friday or a Sunday, give your guests plenty of notice and there won't be a single person not able to take a day off work, it's your wedding day! Everyone will be there whatever the day.
Saving up to £2000
---
The Venue
---
Instead of hiring that exquisite 5 star hotel who will lock you into using their catering and bar service look for a privately run establishment, hall, social club, or a field to place a marquee.
Get a directory of wedding venues that allow a flexible affordable wedding here >>>
Save up to £1500
---
The Photographer
---
Smart phones and digital cameras are now nearly as high spec as you would find from your wedding photographer, so why not invite your guests to post your wedding day images to a private Facebook group, Instagram hashtag or what's app chat?
There's plenty of companies out there that can turn your favourite images into a wedding album.
If hiring a wedding photographer is for you then simply ask for them to provide you the images of the day on a disc and save around £1000
Check out striking perfection photography and quote KK catering for a £200 discount.
---
The Toast
---
Now that you have your own venue with more freedom, place a bottle of sparking wine on each table for the speeches, with prices around £7 a bottle compared to £25 at a typical luxury hotel the saving can be enormous
Save up to £300
---
The Food
---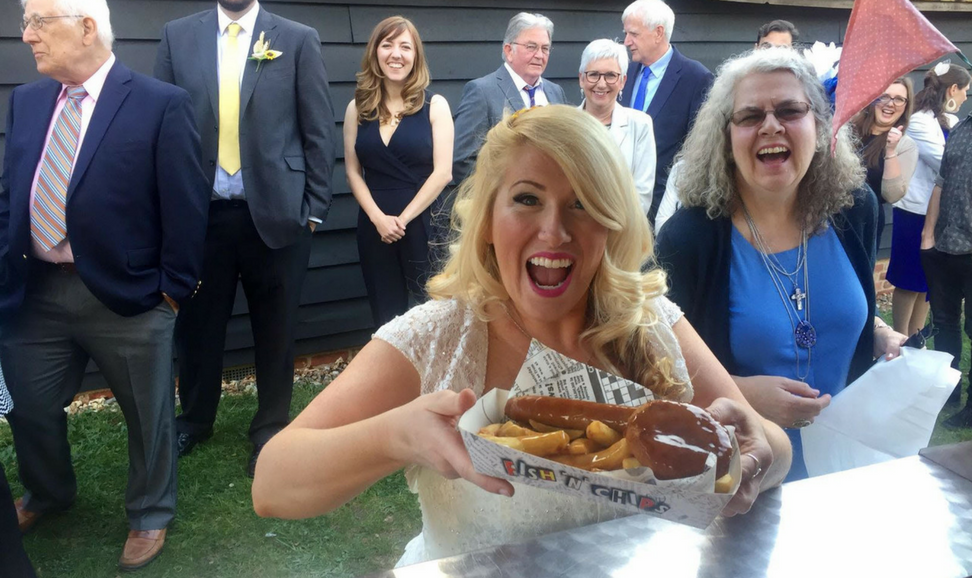 Well that's where we come in, from just £4.50 a head on 150 people we have various food options to suit your tastes.
Fish and chips for the wedding breakfast, pizzas and kebabs for the buffet, or pie and mash, gourmet burgers and wings.
Whatever's the theme of your event there is a food choice to suit , plus we even offer midnight munchies such as tasty bacon and sausage baps.
Saving of around £15 per person vs hotel prices (not a chicken in a sauce in sight)
---
The Drinks
---
Forget that expensive hotel bar, here is where you can impress your guests for less, with the money you have saved on the food why not place barrows filled with ice around the venue filled with bottles of beer, wines and cider.
If that's not for you there are many mobile bar companies available who can transform one part of your wedding venue into a bar.
We hope these alternatives inspire you to think differently about your wedding day, we have years of experience In helping make your wedding special so whatever the question, food wise or not let us help you, save up to £5000 on your wedding day, send us a message @kkcateringuk, give us a call 0844 556 1250 or contact us.