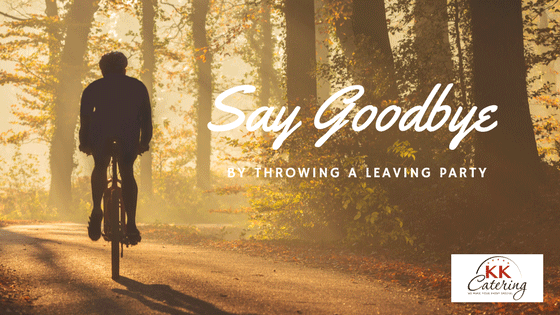 Say goodbye by throwing a leaving party
It's never easy saying goodbye. However, you can at least do it in style by throwing someone a bon voyage party. If you've got a friend or relative that's heading overseas for a long period of time, the bash could be the perfect way to say 'au revoir'. The soiree won't actually take much hard work on your behalf as long as you plan the basics – such as what food will be served and who'll be in attendance. Here are just a few tips to help you get started.
---
Give them time to pack
---
Ideally, the party will be held just before the person departs. However, you don't want to make it too close to the leaving date or it might cause them problems with packing. Obviously if it's not a surprise party you'll be able to get the guest of honour's input on what day works best for them.
---
Street food from their new home
---
There are two routes you could go down when it comes to the food. First, you could turn to fish and chip van hire so that your friend has a 'best of British' send-off. Secondly, you could arrange a more continental option so that it's a taste of what's in store. For example, you could hire a Greek souvlaki hut from us if they're off to Greece.
---
Keep it personal to keep the price down
---
It would be nice if everyone got a chance to say goodbye. Sadly though, this isn't always practical. It's advisable that you try and get as many people in attendance as possible while making sure that you don't overload the venue or invite people who the person who's leaving doesn't know very well, the less people the more intimate the send off which allows the person leaving to get their chance to say their own personal goodbye to each person.
---
Say Farewell – literally Say It
---
Whatever you do, don't let your friend head off on their travels without making some sort of speech. You could give them advance notice on this so that they've got some words prepared, and you could even arrange for a microphone so that everyone can hear what's being said.
Bon voyage parties are a nice way to let someone know that you care they are leaving. To make the bash a success, just follow these tips and you should be onto a winner.