Please wait. We are submitting your request..
Our Tasty Desserts
Indulge in a world of sweet delights with KK Catering!
Our sumptuous dessert offerings are the perfect accompaniment to our mobile catering units, adding a touch of sweetness to any event.
From mouthwatering waffles and crepes to an array of cheesecake bars, not to mention the classic comfort of sticky toffee pudding with custard, our dessert selection will make your event a truly memorable one.
Discover more about each of these delectable options below.
---
Belgium Waffles
---

Waffle Hut Menu £4.50 per person when booked with any of our food units (served from the catering unit)
---
Cheesecake Bars
---
Delight in our gourmet cheesecake selection, with sensational flavors: Strawberry, Chocolate, Raspberry, and White Chocolate. Adorn your event with this tempting spread, beautifully displayed for guests to enjoy.
Priced at just £4.50 per person when paired with our food units, it's an affordable way to elevate your occasion.
These luscious desserts bring sophistication and flavour to your event, ensuring a memorable and sweet experience.
More information about our Cheesecake Bar >>>
---
The Creperie
---
Savor delectable, made-to-order crepes right before your guests' eyes. If you're pressed for time, we also provide a crepe bar option, allowing your guests to craft their own crepes at a self-serve buffet.
This option is available at £5.00 per person when booked alongside any of our food units.
More information about our creperie >>>>
---
Ice Cream Tubs
---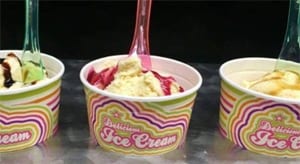 Indulge in the velvety allure of soft scoop vanilla ice cream, accompanied by an array of delectable sauces for your guests to drizzle and customize their dessert.
Choose from a selection of sumptuous options, including:
Luscious Strawberry Sauce
Rich Toffee Sauce
Maple Syrup Elegance
This delectable treat is available at just £2 per person, or for an extra touch of decadence, opt for the £2.50 per person package which includes a scrumptious chocolate Flake to crown this sweet experience.
---
Individual Desserts
---
Treat your guests to a delightful array of individual desserts for a sweet ending to their meal, each priced at just £4.50 per person. Choose from a tempting selection of:
Sticky Toffee with Sauce
Dark Chocolate with Sauce
Ginger with Sauce Pudding
Citrus with Sauce Pudding
Syrup Sponge with Sauce
Jam Sponge with Sauce
Black Forest Gateaux
These delectable options are sure to satisfy any sweet tooth with their tantalizing variety.
Get your Price in Real time
What our Customers say