Please wait. We are submitting your request..
Rollover hot dog carts for hire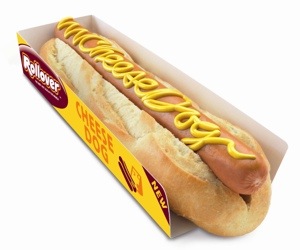 For well over a hundred years, people the world over have been enjoying the wonderfully unique taste of hot dogs. Now here's a terrific way to bring this experience to your wedding buffet or those great parties that celebrate family christenings, birthdays or Christmas and New Year. Our hot dog carts are also perfect for any events UK-wide, whether it be for bonfire night fun, promotional or business activities, fairs and fêtes, company functions, sporting events – in fact virtually any gathering!The one thing we can't quite manage is any attempt to set a new world's longest hot dog record – it currently stands at just under 200 feet and yes, of course, it was in a slightly longer bun!
Enjoying that unique hot dog taste
You know, Humphrey Bogart definitely was onto something when he once said: "Hot dog at the game beats roast beef at the Ritz". To get your taste buds into overdrive, we take a wonderfully traditional bockwurst (more than one happy customer has called them "the world's best") hot dog that has been carefully smoked over beechwood.
We then lay it gently in a soft, freshly baked baguette. You can take a moment to add that final personal touch with a sauce of your choice. This could be barbecue, chilli, onion relish, garlic mayonnaise, mild American mustard – or, of course, tomato ketchup and traditional brown or burger sauce. Not forgetting the essential final touch of those superb crispy onions.
Offer your dogs in a way that suits
There are a couple of terrific options to allow you to add the dogs to your special day. You can hire either the Rollover Hot Dog Cart with a member of our cheerful and professional staff to serve them, or take it as a standalone unit which you can use yourselves. Either way, it requires only a standard power socket to operate and the cart is ideal for any location.
The dog and bone – and 1 other way to contact us
There are three simple ways to find out more about hiring one of our wonderful Rollover Hot Dog Carts. You can simply complete the form to the right of this page. Alternatively call us now on 0844 740 5001 to discuss your event.
Get your Price in Real time
What our Customers say