Please wait. We are submitting your request..
Promotional Catering Vans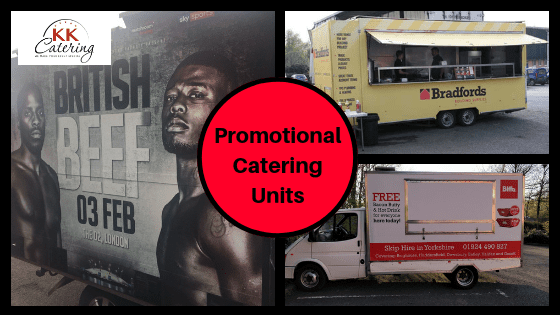 If you're seeking unique ways to market your brand, the top quality promotional catering vans available from KK Catering Services may be just the solution. Our promotional catering vans can be hired throughout the UK and can be wrapped in your brand's colours in order to raise awareness of your business or promote client businesses.
KK Catering is one of the leading providers of mobile catering vans, food trucks and street food bars in the UK. We offer all the major international cuisines from our food vans and trucks, and you can rely on our superb team of highly-trained workers to offer the most delicious foods in a safe, hygienic manner.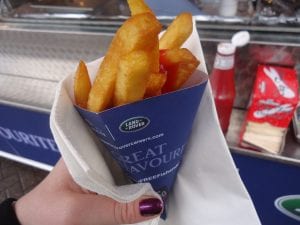 From hog roasts to carvery meals or fish and chips to Mexican burritos, we truly do offer a wide range of popular dishes from our state-of-the-art catering vans. So, opting for a promotional catering truck to market your business brand can be a valuable marketing tool at any time of year.
---
What is a promotional catering van?
---
A promotional catering van will be representative of your brand at any events or activities. Basically, we work with you to create a unique, branded wrap for the mobile food truck(s) you order.
Whether you're providing food for a locally-hosted community event or feeding an array of customers and leads at a sales or marketing venue, the food truck we supply can be customised with your logo and corporate colours. No matter what message you need to convey, we can supply a branded catering van, trailer or unit to suit your needs.
We have worked with a variety of major brands, marketing agencies and public organisations over the years and understand just what it takes to effectively promote any business or convey the direct messages needed.
---
Our promotional catering van packages can include:
---
✔ Rental of the selected mobile catering unit
✔ Design and Installation of Customised wraps to promote your brand or convey your message
✔ Delivery and collection.
✔ Food and drink where required
✔ Promotional teams to attract customers to your catering promotion and conduct surveys.
---
What kind of event?
---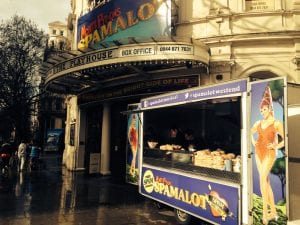 We can provide mobile promotional food trucks to any kind of event or activity, whether outdoors or indoors. You just need to let our customer service team know what sort of event or activity you have planned and the sort of message you need to convey to market your brand successfully.
---
Previous Clients include
---
Paddy Power Free Burger promo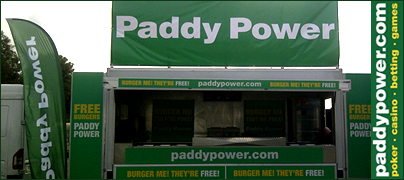 We have worked with Paddy Power on a few occasions and used our burger vans wrapped in Paddy Power's distinctive green colours and branded with their logo to give free burgers away to soccer fans attending Wembley and Manchester Old Trafford.
Feeding the journalists outside Conservative Head Office on election night
Our Tory-wrapped catering van was a huge success with all the journalists waiting to hear news of who would be in power following the last election.
Treating all guests and passers-by at Tesco's annual Christmas party
Guests and visitors alike enjoyed the complementary mega Feasters bacon cheeseburgers on offer outside Tesco's annual Christmas party, which was a great promotional tool for the brand.
Student freebies always work well!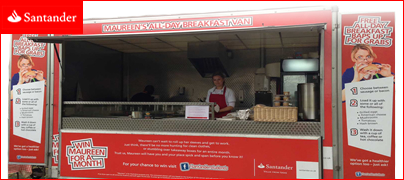 Whether we're offering free fish and chips from a Jaguar Land Rover branded food van or free breakfast meals from a Santander promo catering van, the results are always the same. Students absolutely adore our delicious snacks and meals, particularly when they're free of charge!
---
Take your message directly to offices!
---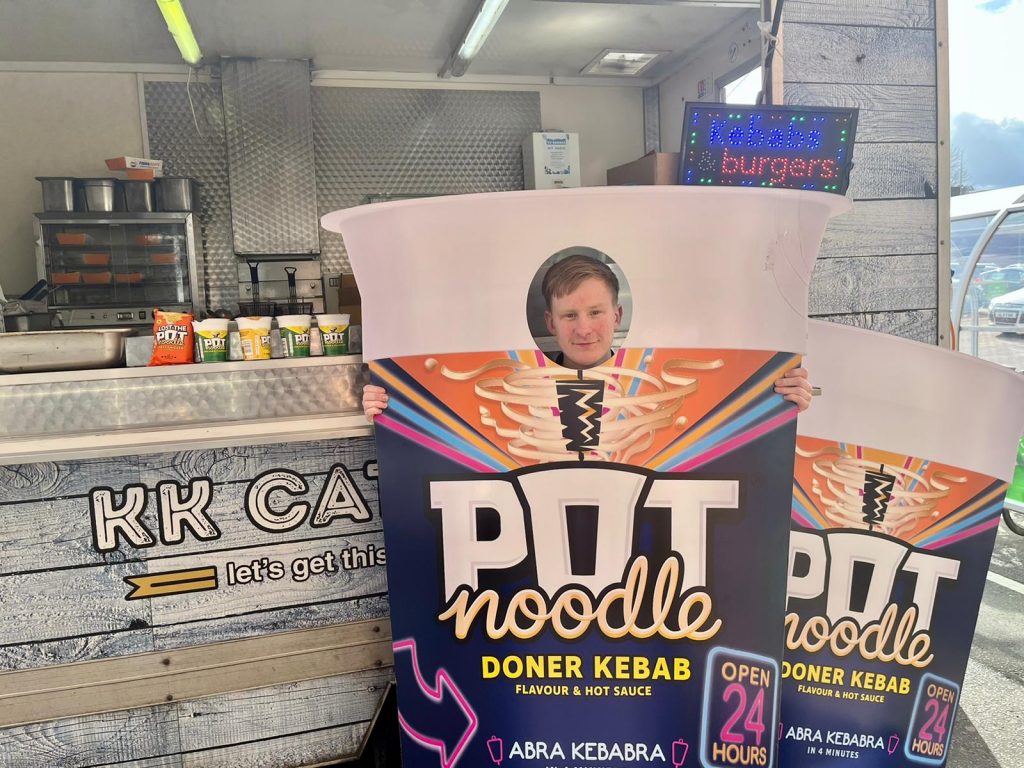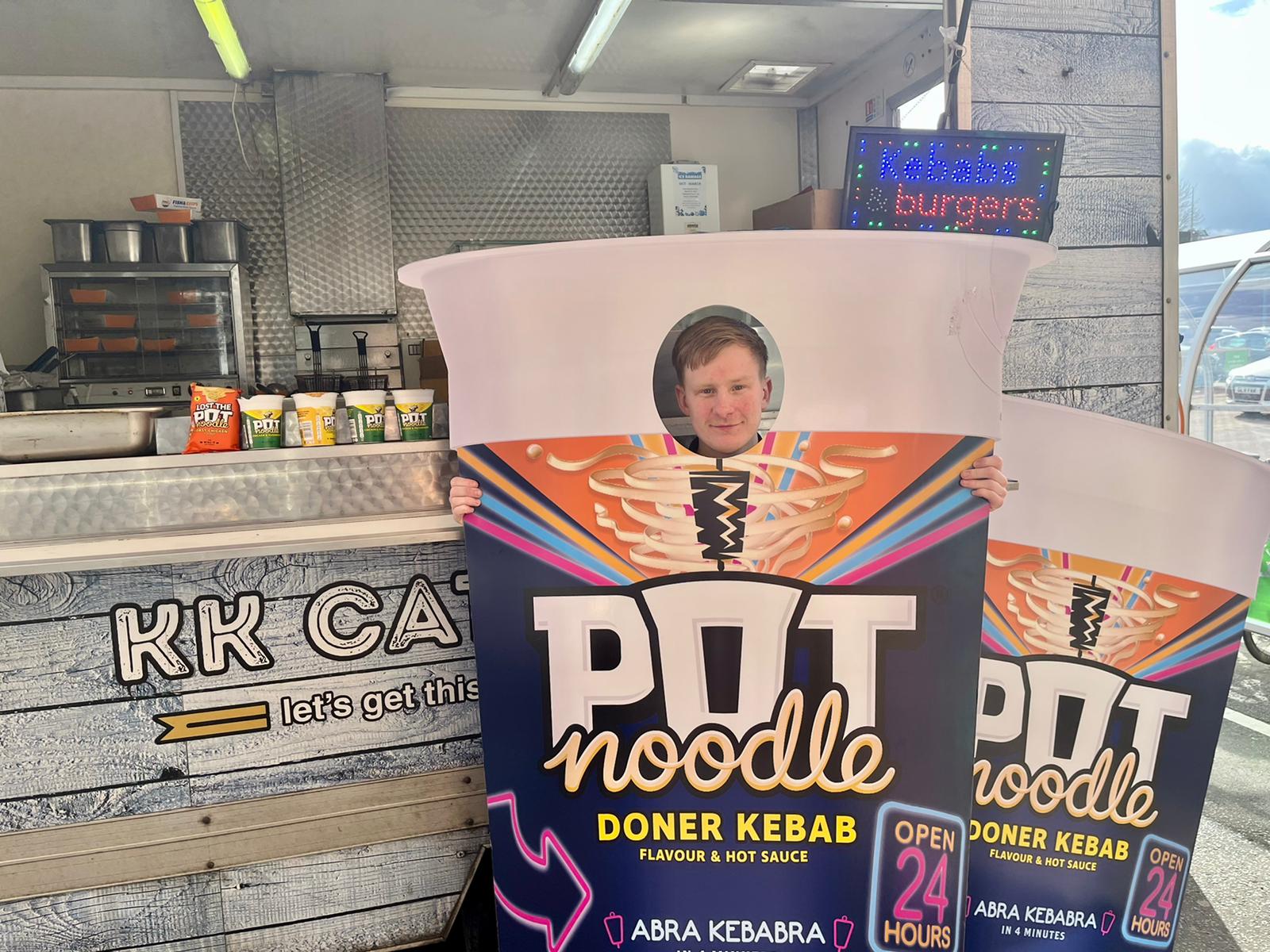 Our team can also deliver snacks and foods from our mobile catering trucks. One example was our delivery of Doner Kebabs direct to the head office of major UK Supermarkets. The power of a promotional catering van on the move is even more effective.
Check out our gallery for more ways our promotional catering vans have been used for raising brand awareness over the years.
If you would like to find out more about hiring one of our high-quality promotional catering vans or unit for your event, then please complete the form on this page to receive a quote.
Get your Price in Real time
What our Customers say