Beyond Burger – Vegan Burger Van Hire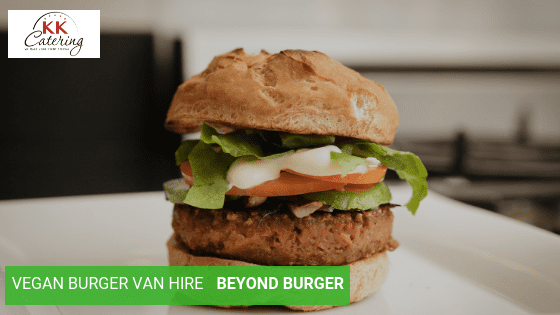 ---
3 reasons why you NEED to try the 100% vegan-friendly 'Beyond Burger'
---
You've no doubt heard the hype – the Beyond Burger looks like meat, smells like meat and even tastes like meat… yet it is completely animal-free.
The latest development in veggie burgers, the Beyond Burger is packed with plant-based goodness, yet tastes just like a real beef burger.
How, you might ask?
Beyond Burger features more than just the regular protein found in typical vegan-friendly patties. The key ingredient is pea protein, however, it also features all sorts of nutritious vegetables to give it that authentic meat-like taste and appearance.
Here, we list our three reasons why you need to try the 100% vegan Beyond Burger….
---
1. It tastes INCREDIBLE.
---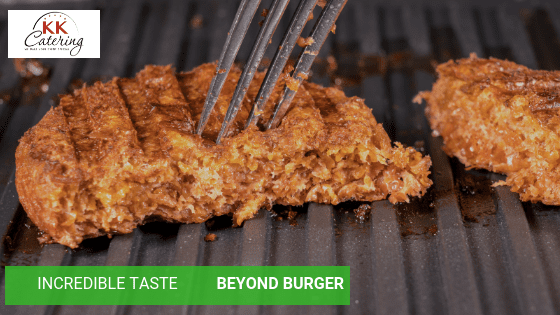 Just because you choose the veggie option, doesn't mean you have to compromise on taste, texture or quality.
We put the Beyond Burger to the test and it's true: it looks, tastes and smells just like real meat. Heck, we'd even go as far as to say it tastes better than some of the beef patties you can buy from famous burger chains.
Because the Beyond Burger is made with pea protein instead of standard soy, it looks just like a regular burger – pinkish-brown and beef-like in texture. Once cooked, these burgers even feature a convincing 'bleed' that burger connoisseurs look out for, thanks to the high levels of beetroot in the product. What makes these burgers especially convincing is that they even have a similar cooked texture to real meat – firm on the outside and soft and squidgy at the centre. The smell is pretty convincing, too.
To enjoy the full (non) beef burger experience, we suggest doing things properly. Load up your veggie patty with your favourite burger toppings and dig in. Try lettuce, tomato, red onion and (vegan) cheese on a toasted brioche bun.
At KK Catering, we stock each one of our state-of-the-art gourmet burger vans with all of the burger toppings you could possibly want, from different types of cheese to dozens of sauces and even a fully stocked salad bar. If you have a special request, give us a call today and we can make your burger dreams a reality!
---
2. It's good for the environment
---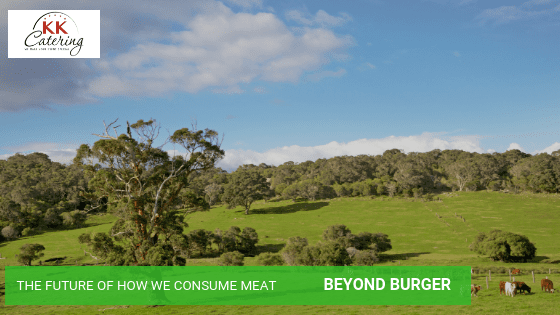 It's no secret that beef farming is bad for the environment. Research carried out in 2014 showed that meat dwarfed other meats for environmental impact, using 28 times more land and 11 times more water for pork or chicken.
So, what better way is there to reduce your carbon footprint than by giving up beef?
Well, the good news is that now you don't have to sacrifice your beloved beef burger – you can enjoy a convincing meat-free patty while simultaneously doing your bit for the planet. Perfect!
Beyond Burger pride themselves on being completely meat-free and 100% vegan-friendly.
Beyond Burger is also completely gluten and soy free, so is suitable for even those with the most tricky dietary requirements.
---
3. It's good for you
---
Nutritionally, the Beyond Burger compares favourably to regular beef burgers.
While they both have around the same number of calories (290 in the veggie variety, compared to 287 in the beef), the Beyond Burger has higher levels of protein and sodium (450mg compared to 75mg found in beef), much less saturated fat (4g less per burger to be exact) and absolutely no cholesterol (beef has around 80mg).
What's more, unlike regular beef, Beyond Beef features no Genetically Modified Organisms (GMOs), which have been linked to lots of scary health risks like infertility, immune problems and even accelerated aging.
You may be wondering how this is possible, given that most meat available from supermarkets will feature some sort of GMOs, whether it's amino acids or lipids. Beyond Burger do not invent new materials to create that authentic meat taste. Instead, they find equivalents in the plant kingdom and then assemble it just like pasta – mixing plant-based ingredients, compressing the mixture and then shaping it into the final burger-shaped product.
---
Ready to try the Beyond Burger?
---
We don't blame you.
At KK Catering, we supply a variety of high-quality veggie products including the Beyond Burger (Additional Fee's Apply) via our gourmet burger and BBQ vans. These vans are fully equipped with state-of-the-art kitchens, so we can bring you the very best food no matter where you are, quickly and efficiently.
We specialise in delicious, authentic street food to make your mouth water, and we're set up to cater for events both large and small.
Give us a call today or use the form on this page to enjoy delicious and healthy Beyond Burgers at your next event., just be sure to let us know you would like to add on the beyond burgers.
Get your Price in Real time
What our Customers say