Breakfast Burrito Bar
You may also be interested In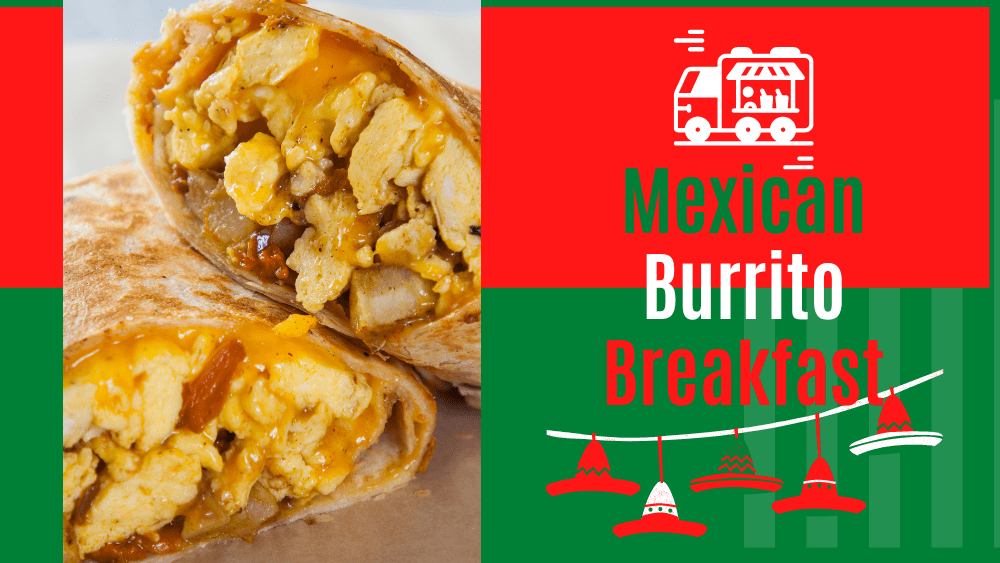 Bring the vibrant flavours of Mexican cuisine to your special event with catering from one of our Mexican breakfast burrito bars. Burrito bars are fun and let your guests customise their meal exactly as they like it, with fillings to suit every taste. For flavoursome and original catering that your guests won't forget in a hurry, our breakfast burrito bars are a fantastic option. They offer a satisfying and flexible catering option that everyone can appreciate, as well as being something a little bit different.
KK Catering is the UK's number one events catering provider. We're excited to bring you our Mexican breakfast burrito bar – it's the ideal way to feed a crowd at a huge range of different events. Having one of our breakfast burrito bars also helps your catering to stand out against other food offerings you see more frequently.
---
Ideal for any event
---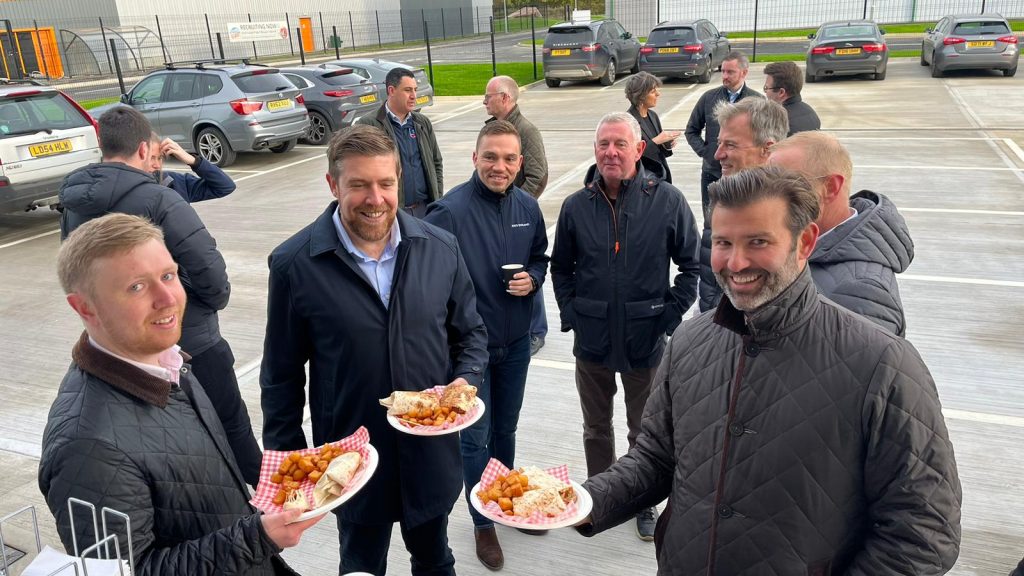 Whatever the occasion you're planning is, our breakfast burrito bar is a wonderful way to keep everyone well-fed. For corporate events, away days, and seminars, food from the bar is an enjoyable way to kickstart the event and give fantastic hospitality to your guests. Breakfast burritos are a surefire way to brighten up a morning business meeting but for any sort of morning event, this type of catering is a great option.
On the other hand, if you're holding a raucous alcohol-fuelled event and want to offer something tasty to your guests the morning after, our burrito bars are the ideal match. At the end of an energetic night, this comforting and tasty food will refuel everybody before they head home to sleep it all off. Regardless of the number of attendees you have, breakfast burritos are a convenient and tasty way to quickly feed a big crowd. The food on offer also caters to a variety of different tastes and dietary needs.
---
Our breakfast burrito menu
---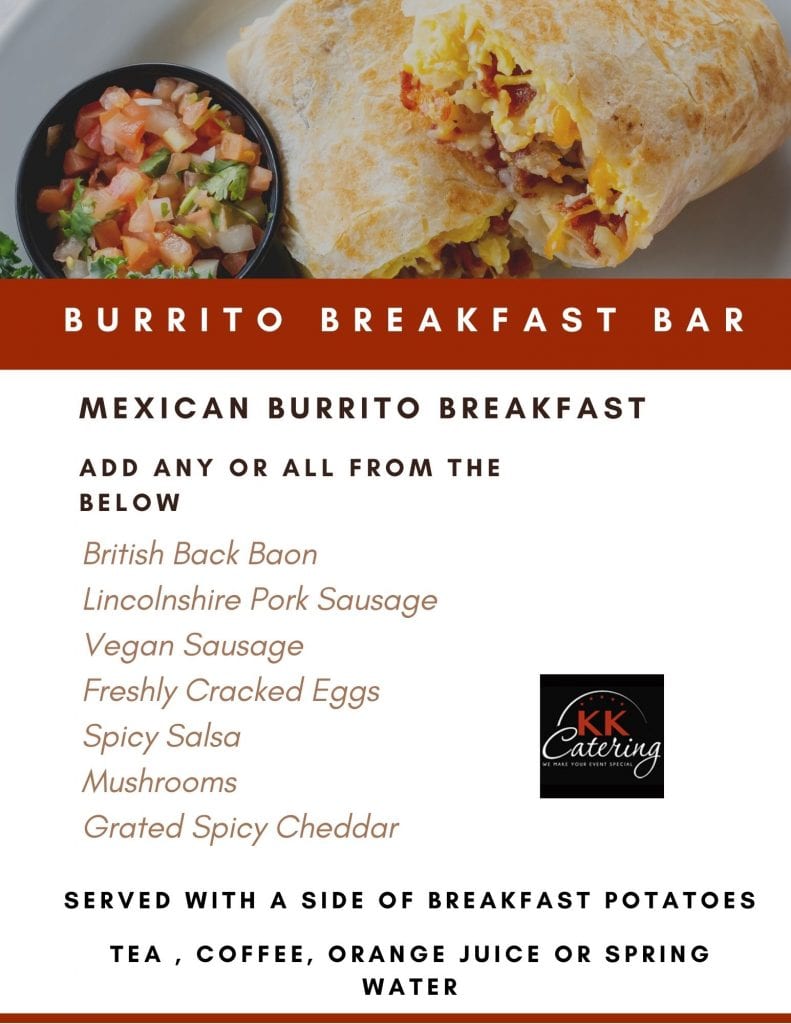 Our breakfast burrito menu is straightforward but it delivers plenty of choice for everyone at your event. You won't have to worry about making further menu selections on behalf of event-goers. Guests can choose as many fillings for their burrito as they'd like from the varied selection on the menu. From those who prefer more simple options to people who want a gut-busting wrap loaded up with everything, our catering options are satisfying for everyone.
The burrito bar dishes up Mexican tortillas rolled up with delicious breakfast ingredients that range from gourmet British sausages and bacon to eggs, mushrooms, vegan sausages, and zingy salsa to inject some real Mexican flavour. Every burrito is served with a side of breakfast potatoes for a filling and satisfying start to the day. The breakfast burrito bar also offers hot drinks, juice, and water – everything you need to prepare for the day or wind down from a big night.
---
Catering throughout the UK
---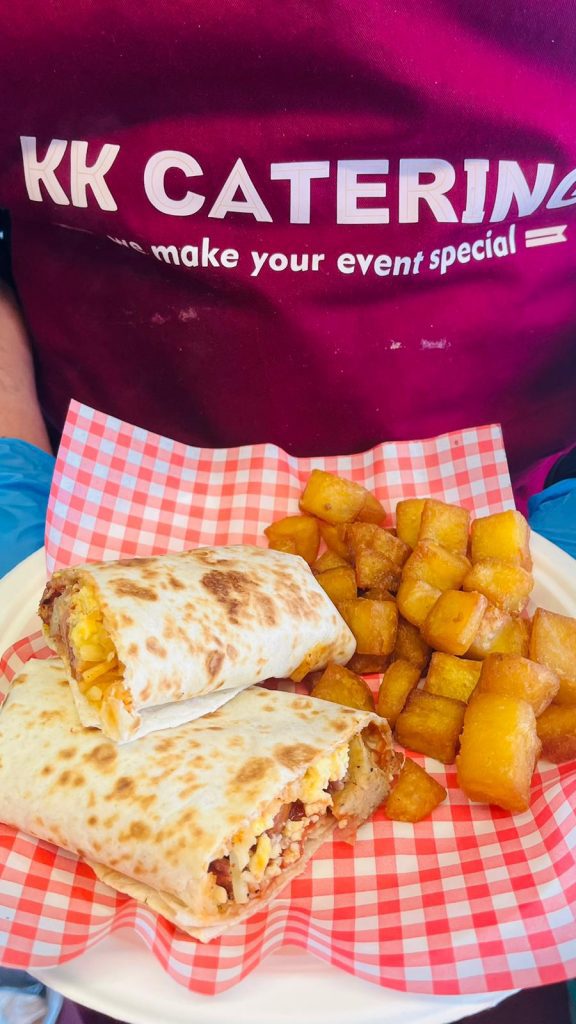 Wherever your event is taking place in the UK, a Mexican breakfast burrito bar from KK Catering is a smart solution to providing hospitality and exciting food. Our fully mobile catering units mean we can bring the food to you, no matter what the location is. We've already provided catering services for a varied range of events spanning the length and breadth of the country.
As long as there's space for the van and the hordes of hungry diners who are ready for their morning burrito, we can provide top-quality catering and a memorable food experience that'll leave your guests feeling impressed.
---
Exceptional standards
---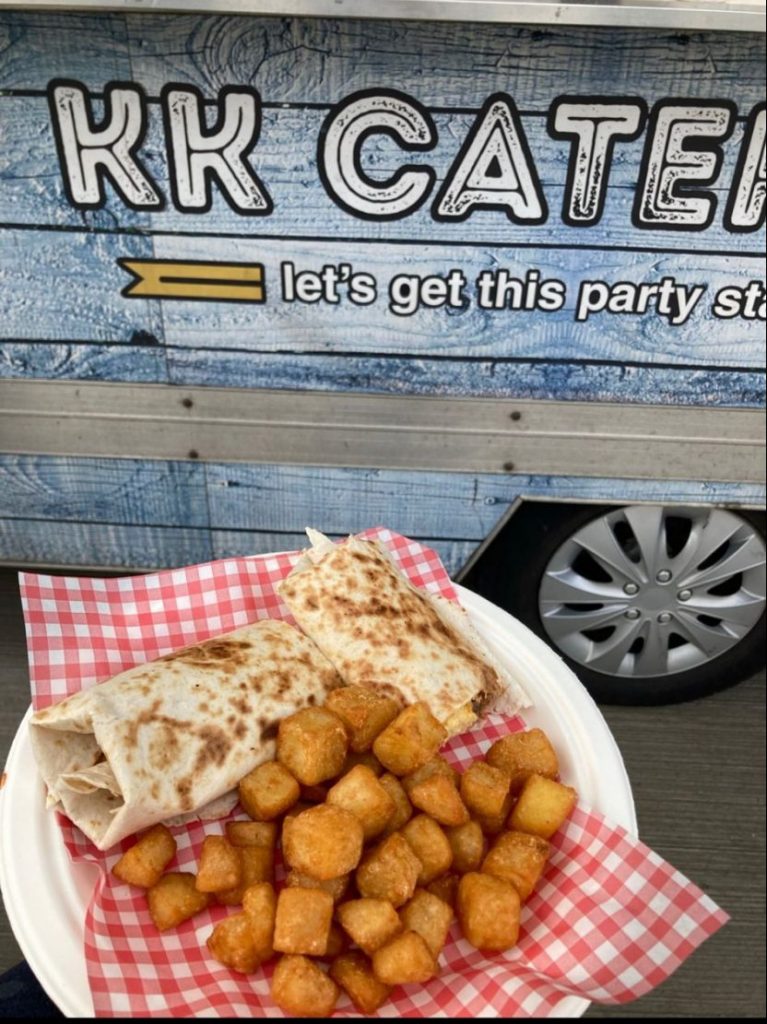 You can be totally confident when you choose breakfast burrito catering from us – there's a reason why we have a reputation as a top catering provider. We have exceptional standards for customer service, food hygiene, and food quality. Both before and during your event, we'll collaborate with you to ensure you have everything you need for a successful food offering at your event. You can expect reliable service as well as the most important thing of all – delicious food that really makes an impact on attendees.
Whatever your requirements are for catering, we're committed to making sure your event goes off without a hitch. You can be certain that you'll get delicious food prepared by experienced chefs, served in a way that suits the needs of your event. We work closely with our customers to get to know their requirements. We know that every event is different so we work hard to deliver a service that's exactly what you're looking for.
---
Get your breakfast burrito bar
---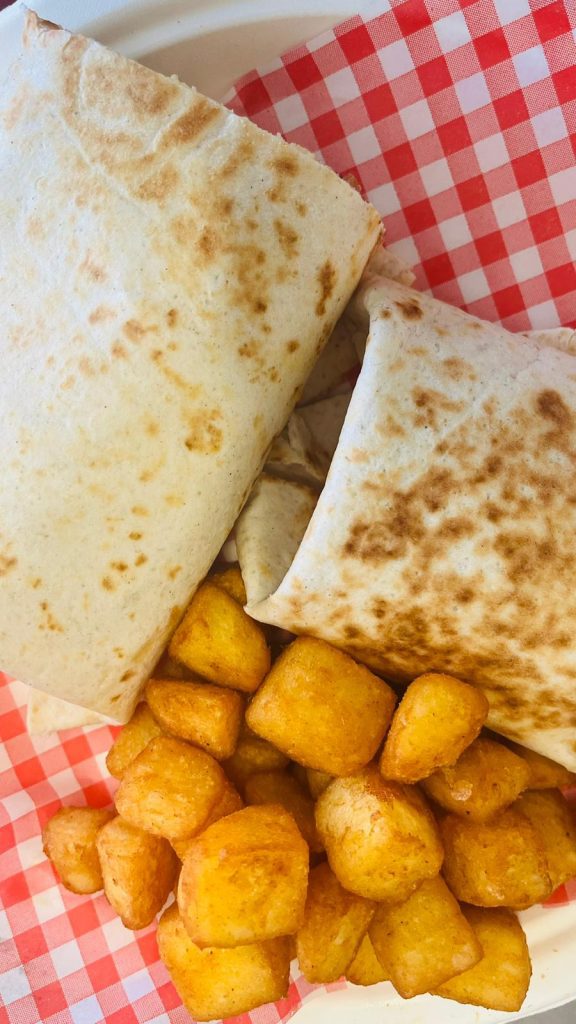 No matter what the occasion, we can provide a Mexican breakfast burrito bar that provides a fantastic beginning or end to your event. If you fancy getting some burrito action at your next event, complete the form on this page to request a quote. We'll carefully consider your requirements so we can make the right recommendations.
Get your Price in Real time
What our Customers say