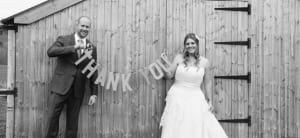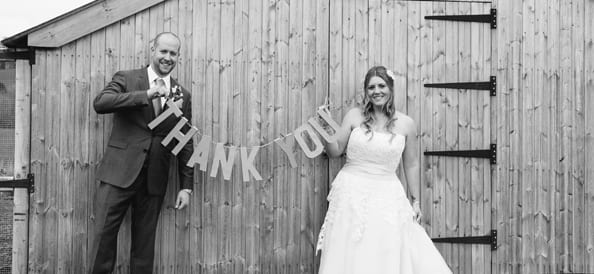 You were a pleasure to deal with and made my life easy by being so professional and easy to contact
We had the best day ever and I am so glad that I got in touch with you guys to look after our food for the evening…… ALL of our guests were blown away with the great tasting, hot beautiful food!!
Murleys
Married in October 2013
"We would like to take this time tell you how great it was working with you, both on the lead up to and on the Wedding day. You made the whole process very easy and answered all our (many) questions. On the day your team were perfect and the fish and chips, etc. were delicious! It was brilliant on the day that the team just got on with things and we didn't have to direct or answer any questions. Your work was seamless. We certainly won't hesitate to recommend you to friends/family in the future. Thanks so much for everything, The Murleys :-)"
Debbie
Birthday September 2013
"Just wanted to thank you very much the food was great and everyone really enjoyed it. I was busy when the van left please pass on my thanks to him. Many thanks once again I will definitely recommend you to anyone whose having a party! Kind Regards Debbie "
Jim & Claire Newitt
Kebabs and Burger 40th Party Hampshire Jan 2014
"What a fantastic service you've provided, from the original contact to my actual event. Everyone has been so efficient, communication has been brilliant and the actual food, well, so many comments that have been favourable. Nobody has said anything was a problem. So thank you so much, and a big thank you, big recommendation if anyone asks."
Potts
Married in November 2012
"We both wanted to pass on our thanks to everyone at KK for the quality and standard of food, and service at our wedding on the 3rd November (Boxgrove). EVERYONE we have spoken to about the Fish & Chips have stated how impressed they were with the quality, how tasty they were and how friendly the service was; we really could not have asked for anything more and we thank you for that."
Kairen
18th Birthday Party, Hale, Cheshire September 2013
"I just wanted to say a big thank you for the catering you provided for us on Saturday everyone said how great the burgers etc were and the team serving we're really nice and a credit to your company. Friends have taken your details so hopefully you will get some bookings from them, Thank you again for helping to make baby's 18th a night to remember Regards Kairen"
Geoff & Elle
Wedding Reception Feb 2014 Cheshire
"we were absolutely thrilled with the fish and chips, and several people commented on how good they were! Scott was brilliant and very communicative and a pleasure to deal with We've already recommended you to someone else who was looking for something for their 20th wedding anniversary! "
Tina
Wedding Reception March 2014 Yorkshire
"Just wanted to thank you and your team for the service on Saturday evening. We had a great time aided by the friendly and swift service provided by Simon and Wendy and everyone enjoyed not having to eat another buffet supper (and their fish & chips of course). I have sent Simon a thank you text but I wanted to say thank you to you and the back office people too. I will definitely be recommending you to the Poppleton Centre for future events. With best wishes Tina"
Anne – Lloyd Jones
Wedding Reception 20th September 2014
"When my daughter, Elizabeth Jack and her husband were planning their wedding her main priority with regard to the catering side of things was that their guests would be well fed with excellent quality, tasty food. You ticked every one of their boxes in terms of professionalism, friendliness, communication and of course, delicious food! Their guests were extremely complimentary about your food and service. I can't thank you enough for such a brilliant service. I would 100% recommend your company to anyone looking for affordable and fabulous fish and chips!"
Previous Customers