Little India – Indian Street Food and Mobile Catering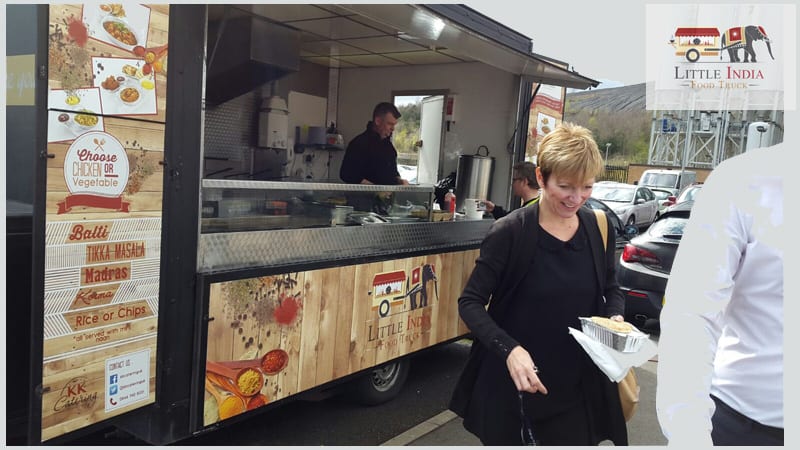 ---
Authentic Indian Street Food
---
Indian cuisine has become a British staple over the years, with Chicken Tikka Masala recently chosen as one of Britain's favourite dishes. Why not choose to have one of KK Catering's fantastic and delicious Indian mobile catering menus to provide food for your next big event or party?
We have 2 options for you to choose from, our traditional curry menu or our Street food wrap menu, both options offer delicious menu's from the east.
---
Classic Indian Menus
---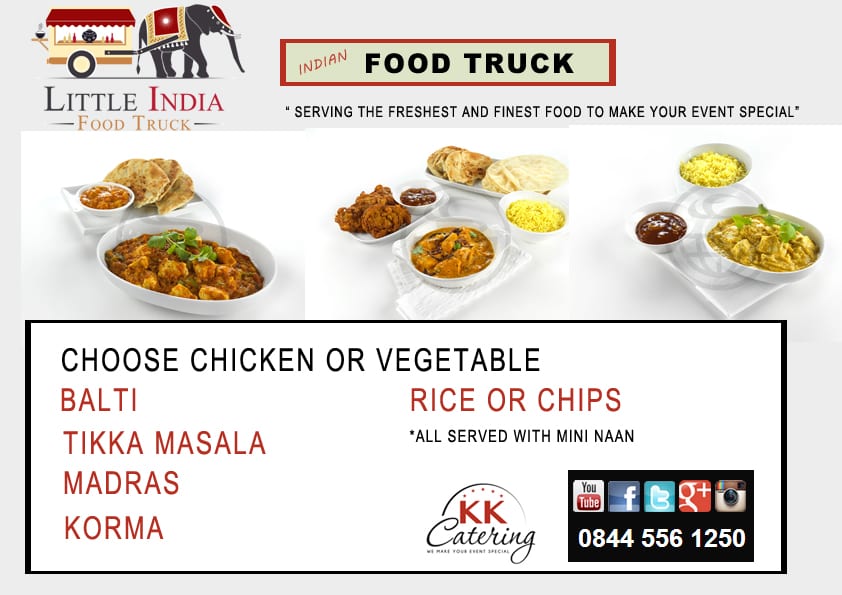 Our menu of enticing Indian street foods includes all the classic favourites, from creamy kormas, aromatic balti's and tempting masala's to fiery hot madras's, all served with mini naan breads, and the option of rice or chips.
There's something for all the family, with the smooth and mild coconut sauce of the korma an ideal choice for kids, whilst the garam masala of the balti dishes makes it a delicious first time curry choice for those looking to experience Indian cuisine for the first time.
For those who love their curry with a real spicy kick, the tantalising madras will delight with it's hot and spicy tomato-based sauce. Not just for meat eaters, as well as succulent chicken all our curry dishes are available as a vegetarian option.
---
India Street food 2 Go Menu
---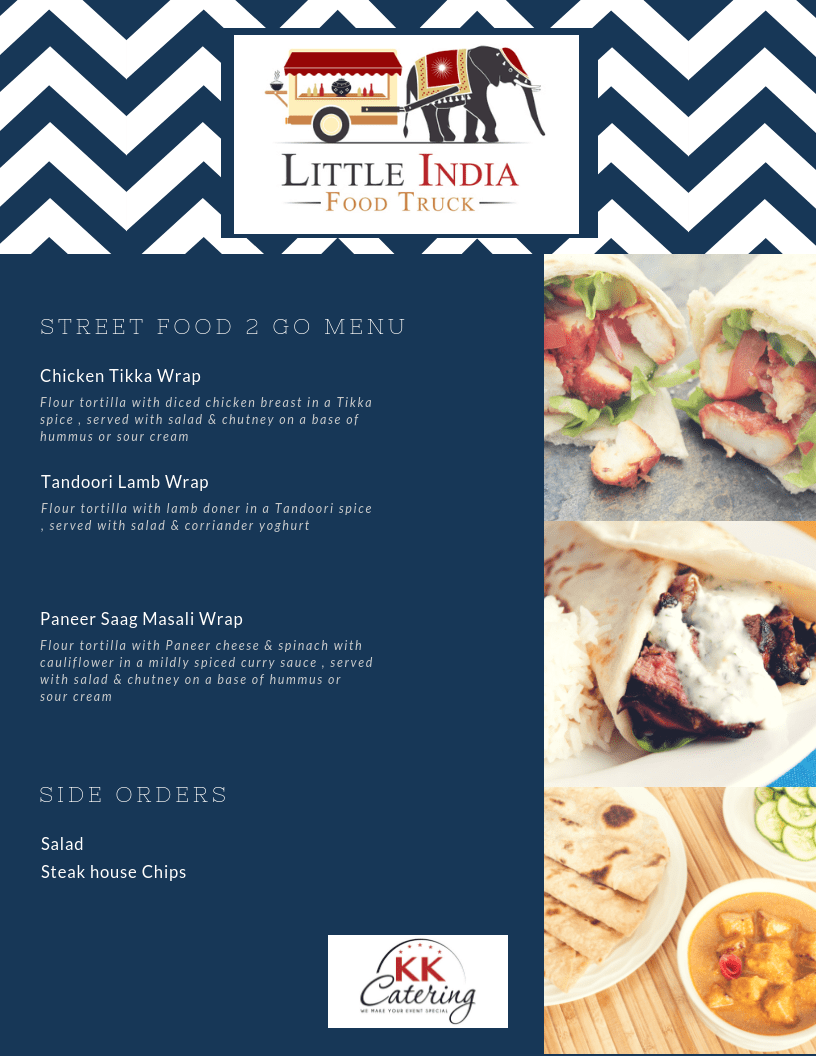 Alternatively, there is our Indian Wrap menu which offers Chicken, Lamb and paneer saag in a tasty authentic wrap with a side of salad and chips, perfect for when your event lends to the style of offering handheld food.
---
Any Event Anywhere
---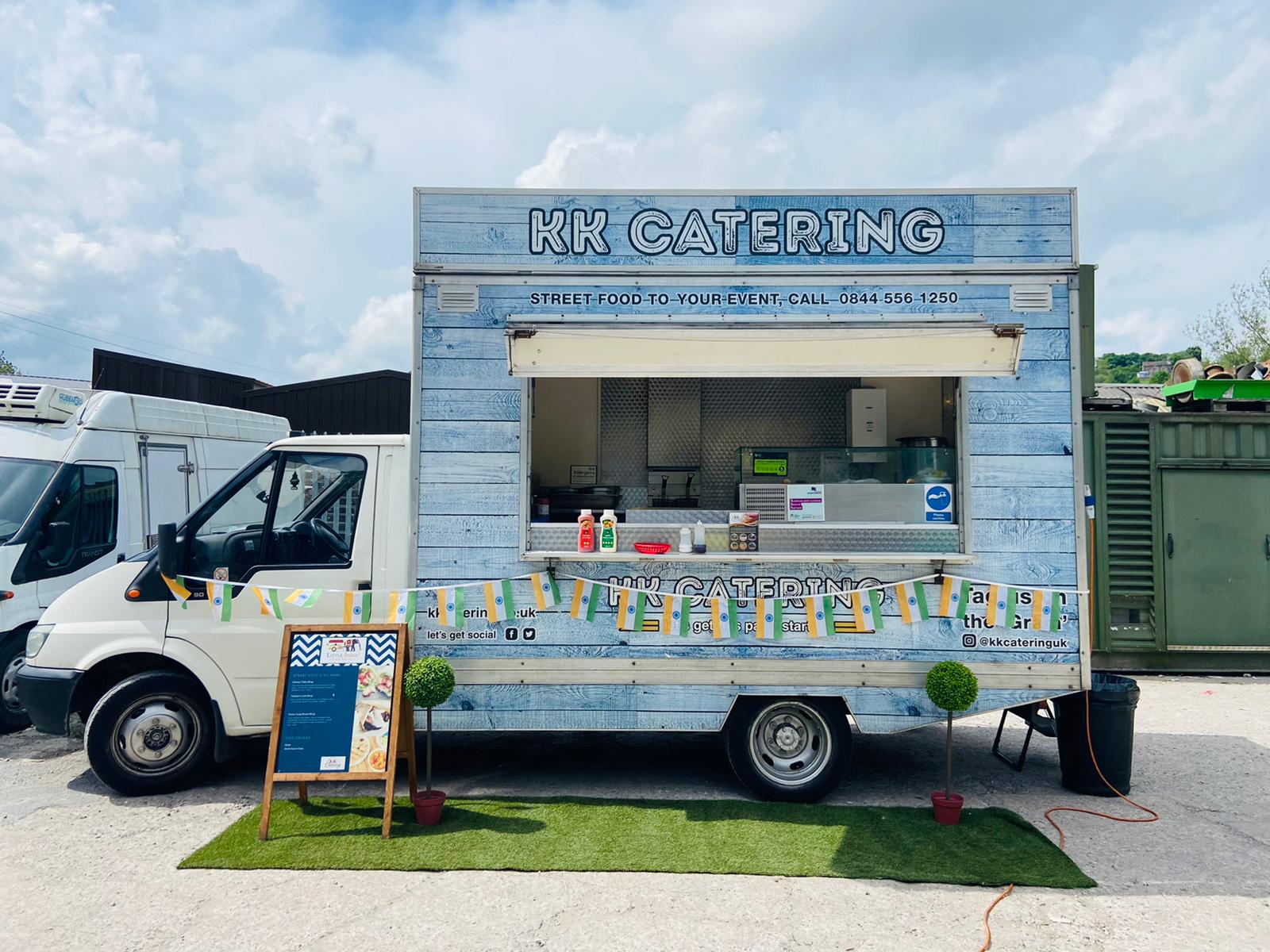 A great way to spice up a wedding reception, KK Catering's Indian food catering Little India curry choices are all hand crafted by our experienced and professional in-house cooks, and our mobile units are available nationwide, so no matter where your event is taking place you can rest assured knowing you can enjoy Indian street food exactly where you want it.
Ideal for an outdoor wedding or summertime party, you can now enjoy a taste of the exotic under the stars. Or for an exciting and different way to surprise your party guests, why not choose Indian street food as a great alternative to the usual canapes at the office party or as part of a celebration dinner.
---
Take the 1st step to spicing up your event
---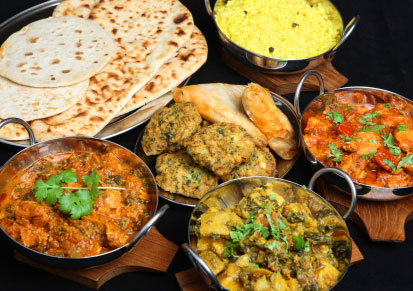 With our combination of fresh ingredients and a wide selection of Indian favourites, KK Catering can provide the ultimate in Indian take away food. Available straight to where you want it, our units travel nationwide, and our chef created meals are the best way to enjoy party food, with plenty of time spent eating and no time spend cleaning up.
So for your next event or party, why not opt for a taste of the exotic and bring Indian street food right to your doorstep.
---
Let's get this party started
---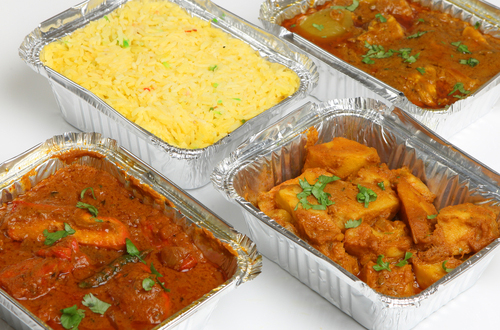 All we need to get a price to you are a few details about your event including how many guests you are planning on inviting, what date you had in mind and where you are holding the event. Then give us your contact details and our team will be in touch usually within the hour with a personalised quote for your event. Use the form on this page to get your quote now and let's get this party started
Get your Price in Real time
What our Customers say