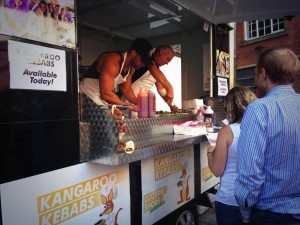 With a hop skip and a jump the caste of Geordie Shore served Kangaroo Kebabs today throughout the city of London to help promote the new series of Geordie Shore on MTV tonight at 10pm.
We provided the kebab van for the promotional catering and our staff prepared fresh kangaroo rump steak served in a soft wrap with salad and sauces.
The van was branded to ensure greater visibility for the promotional campaign and we served nearly 250 kangaroo kebabs throughout the day.
With the popularity of the MTV UK show, the whole campaign shook the foundations of twitter as the city of London took to the social media site to express their shock at being offered free Kangaroo Kebabs.
See below how social media helped the promotional catering campaign become a huge success
KK catering are the experts when it comes to promotional catering and giving away free food is the perfect way to promote your event, business, brand or TV show