You've picked out the dress, you know what the cake looks like, and you've even narrowed down your guest list… so once you've decided who is coming to your wedding ceremony and to the wedding breakfast, what else is left to decide?
---
How many people?
---
Well, many brides often struggle with the question of how exactly to cater for their evening event. It's now extremely common to invite a large number of guests to join the main wedding party, at an evening event. What isn't always clear though, is whether you need to provide food during this – and if you do, what kind of food should you provide, and for how many people?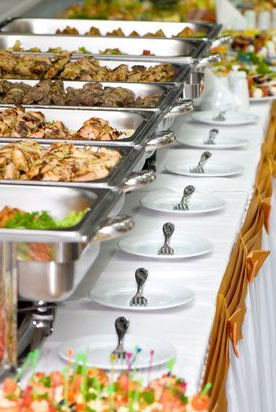 Most wedding planners agree that a buffet should cater for around 75% of all your guests
---
Ditch the Buffet
---
A traditional option is a standard buffet, with a range of cold finger foods that guests can pick at, in between enjoying the disco and exploring the rest of the venue. These buffets can often be disappointing though, with a tired selection of quiche and cold chicken legs, with wilting salad and droopy garnishes.
Modern brides are increasingly opting for more unusual wedding evening catering – from fish and chip vans, to noodle bars and gourmet burger vans.
---
How much Food?
---
Once you've chosen the type of evening catering you want for your wedding, you're still left with the difficult conundrum as to how much food to order for your guests. The advice given on how many guests you should be catering for does vary, significantly, depending on who you ask.
Some venues insist that catering covers a full portion for every single guest – to avoid any negative perception of the venue if the food did run out.
More conservative estimates suggest catering for 80-85% of the guests, particularly if many of them were present at your early meal at your daytime event – meaning they may want slightly less food in the evening. This is also potentially a good option if you are expecting a large number of invited guests not to show up on the day.
---
We say 95% – 100% for our Food Units
---
The most sensible advice is to cater for at least 90% – and probably closer to 95%, if you are expecting a large number of evening guests who weren't present at your daytime meal. 95% should be enough to ensure that you don't run out of food – avoiding stress and embarrassment for the bride and groom – but it also allows you to reduce the food wastage.
For peace of mind, you may still wish to opt for 100% catering, especially if you have chosen an exciting, unusual option like a Mexican Burritos, Pie and Mash or a fish and chip van, which are likely to have a high uptake from your guests compared to a standard buffet.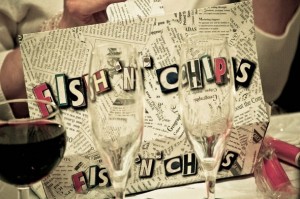 Providing your evening wedding guests with a quirky meal like fish and chips will attract 95-100% of your guests