Grilled Cheese Toastie Truck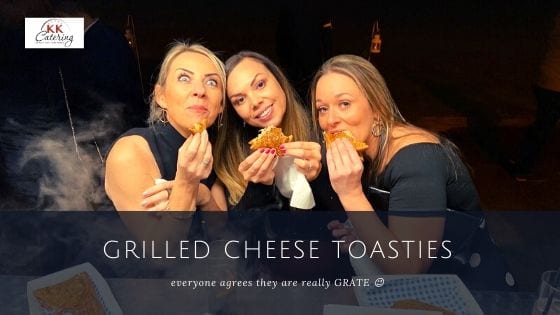 ---
Grilled cheese toastie mobile catering truck
---
The KK Catering grilled cheese toastie mobile catering truck is ideal for a wide variety of events and celebrations. Grilled cheese toasties are extremely popular street food across the water in the USA. So, if you've enjoyed Mac 'N' Cheese melts or Classic Cheese Melts in the USA before, you're sure to find our outstanding cheese toastie mobile will prove a hit at your event.
---
Menu options
---
When you book the KK Catering grilled cheese toastie mobile catering truck you're not just serving your guests a simple toasted cheese sandwich. All of our toasties are served with a choice of crisps, green salad or potato salad and coleslaw. You can opt for white or wheat bread, so your toastie is tailored to your preferences even further. The wide selection of delicious cheese toasties available on our grilled cheese toastie menu.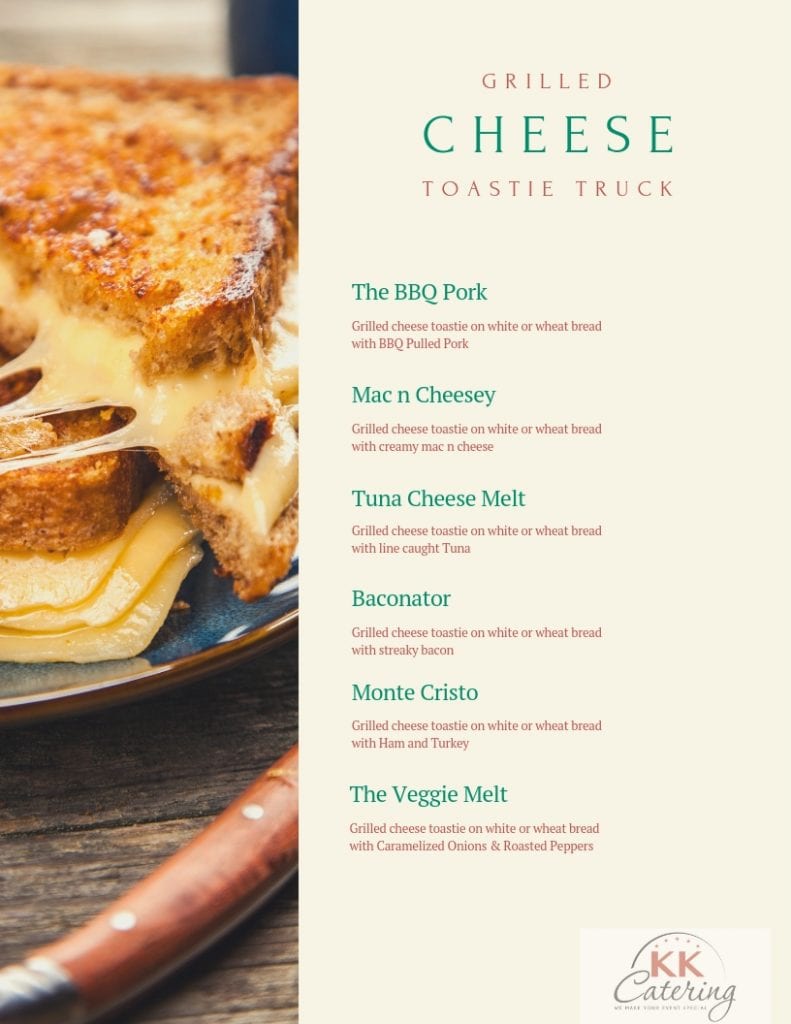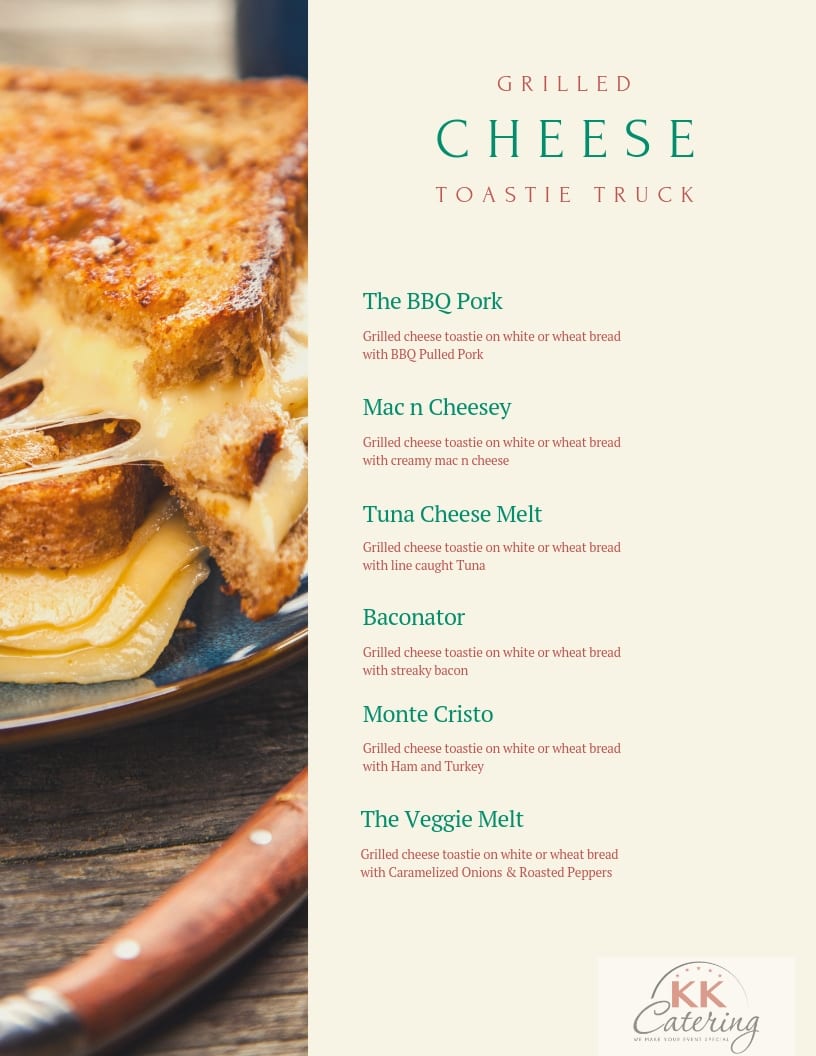 We're quite sure your guests will be delighted with their delicious and filling cheese toastie meal and you can rely on KK Catering to use the freshest ingredients in all toasties.
---
Why KK Catering – The cheesy bit
---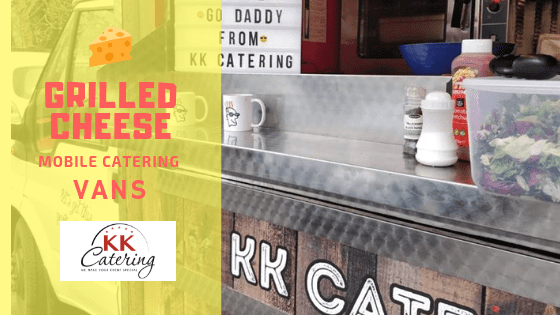 Street foods such as toasties are increasingly popular for celebrations and our cheese toastie mobile catering truck can easily be parked up outside your venue so guests can choose their own cheese toastie meals. Alternatively, opt for our waiter service, so your guests can be served their delicious cheese toastie meals indoors. You can rely on the high quality of all our cheese toastie meals, and the menu choices are diverse, so guests with any dietary needs can enjoy a filling and healthy fast food meal.
Our diverse cheese toastie menu means there's sure to be a meal to suit every guest at your event or celebration. And, we use the finest, freshest ingredients in all our meals, so you can rely on the high quality of every single toastie meal provided. Guests with special dietary requirements just need to say the word and our expert toastie chefs will ensure their meal is tailored to meet their needs exactly.
Our cheese toasties are a tasty alternative food and have proved popular for family parties and weddings. If you're looking for a fun, alternative meal choice for any kind of private or business event, this delicious, tasty meal option could be the solution you are seeking.
---
Melt your guests taste buds
---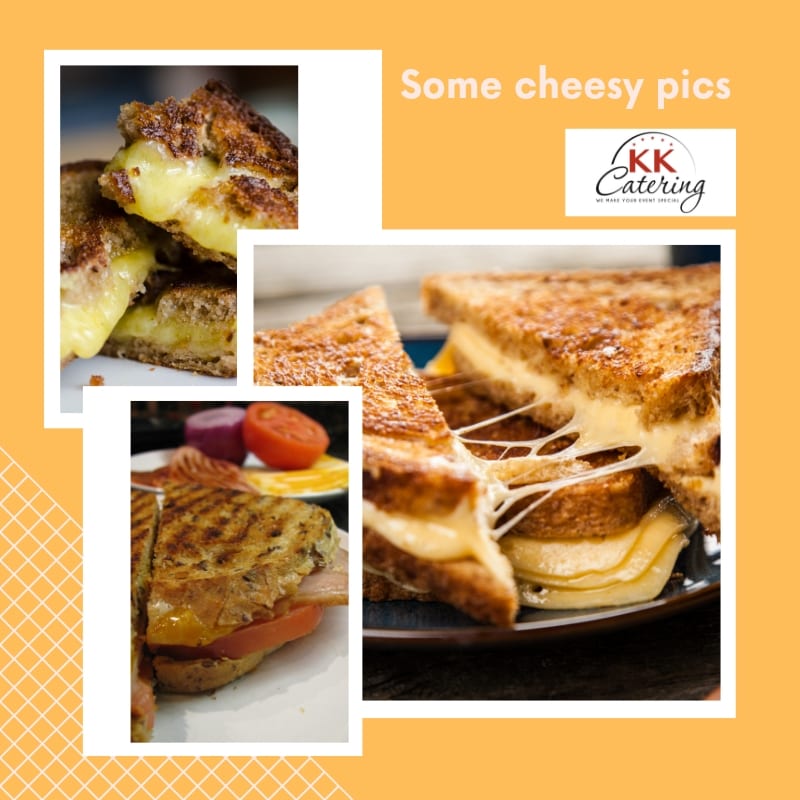 Our cheese toastie mobile trucks are perfect for indoor and outdoor events and offer a simple solution for feeding lots of guests. You can rest assured that all our toastie trucks are fully compliant with all health and hygiene standards. We rely on our fantastic reputation to garner increasing trade, as we understand that recommendations and word of mouth are the way our business has grown over the years.
When you opt for a KK Catering grilled cheese toastie mobile catering truck to supply food for your event you can rest assured that all supplies are provided. You don't need to worry about providing plates, cutlery or napkins, as everything diners need to completely enjoy our tasty cheese toasties is supplied.
All our cheese toastie ingredients are sourced responsibly. We only ever use the highest quality ingredients for all our catering trucks, and the cheese toastie mobile catering truck is no exception. Whether you need to cater for hundreds of guests or just a few, opting for our cheese toastie mobile truck solution is an affordable way to provide everybody with a delicious and enjoyable meal option that's sure to be popular with guests of any age.
---
The crunch of it
---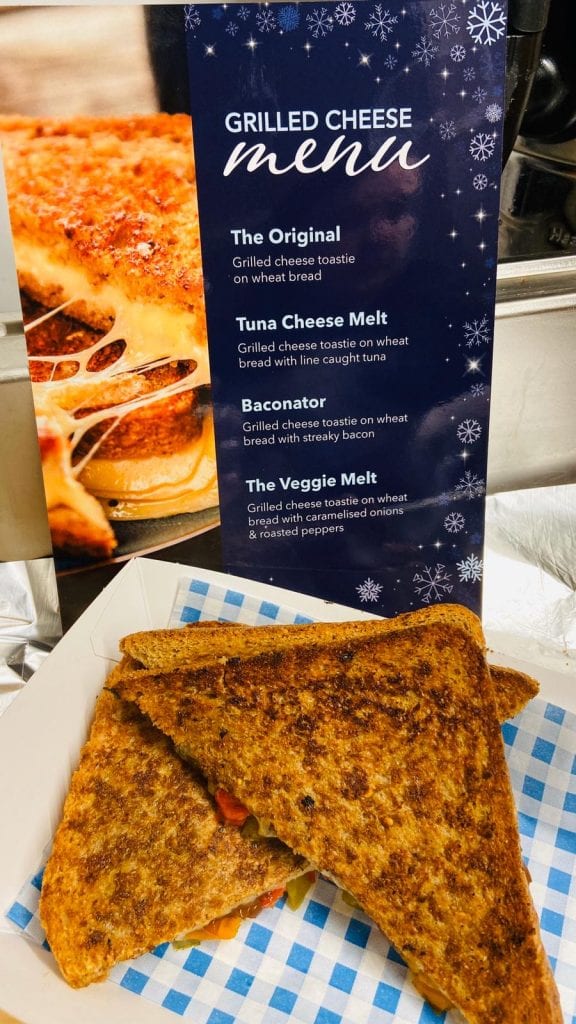 Our filling cheese toasties are a superb meal solution at any time of day or night. You can rest assured that our filling cheese toasties and healthy salad options will be a delicious alternative meal. Our cheese toastie mobile catering trucks are a fantastic meal solution for corporate events and work days out and give all employees the tasty treat they deserve. You will also find that cheese toastie mobile trucks are ideal for school events or fundraising activities, giving all visitors a healthy fast food alternative to traditional chips…
Get in touch today to find out more about the mobile cheese toastie catering truck solutions provided by KK Catering. We'll happily talk you through all our catering options so you can choose the food solution that will be perfect for your event and venue.
Get your Price in Real time
What our Customers say