Fried Chicken Catering for events and weddings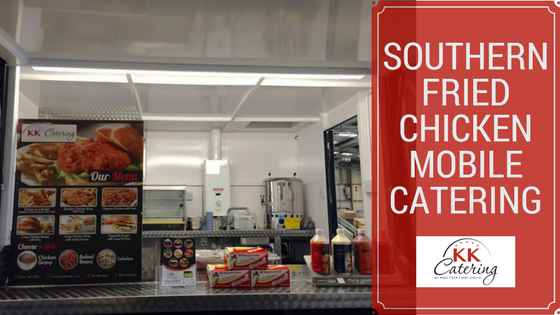 We all love southern fried chicken, with the success of KFC and many other fried chicken chains across the country it has become a staple of the UK fast food industry, and now we bring you the taste of southern fried chicken at your event, party or wedding with our southern fried chicken mobile catering.
Our experienced, friendly and professional KK Mobile Catering team already deliver many great tastes to weddings, anniversary or birthday parties, business events, location catering, and more right across the UK. Now, you can add a range of terrific chicken tastes to your event, simply by arranging for our Chicken & Chips Mobile Catering van to make an exciting appearance.
---
Surprise & Delight
---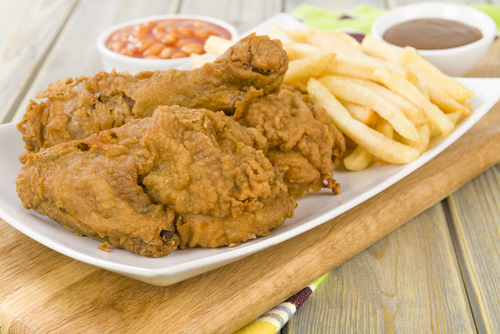 We know, when setting up our brilliant chicken and chips van in time for guests to arrive, that they'll be both surprised and delighted by the fun and flavour we bring to any special moments.
Alternatively, your event can be in full swing, and then suddenly we're there, much to everybody's delight. Often, guests disappear indoors for part of the celebration. After, when they come outside again, there we are, ready with the great smell of superbly fried chicken instantly invading their senses.
It might be a laughter-packed family get-together, or an event to say thanks to a work team for all their efforts. Businesses sometimes ask us just to turn up in their car park so that they can surprise all those hard at work for them! We've delivered great food experiences at all these occasions and so many other celebrations.
---
Finger Lickin Guaranteed
---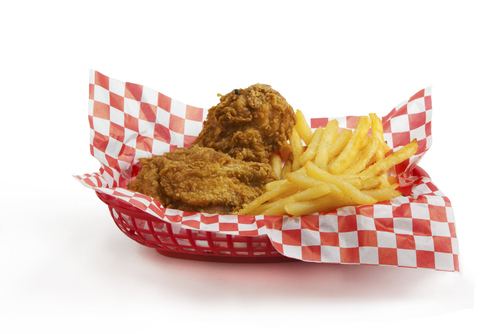 For so many of these events, catering plays a vital part in deciding if it's judged to be the success those organising it hoped for. This is why our unique presence, different from what those attending might usually expect, is so quickly welcomed by hungry folk.
Of course, after making an initial impression, it's then all about the quality of the food. When guests taste our chicken in a basket – that's southern fried chicken with tasty fries, plus great gravy or brilliant beans – they'll know how well our team delivers.
Add to this other choices such as boneless crispy chicken strips, or our ever more popular popcorn chicken. Other guests might choose a classic crispy chicken burger with fresh salad and creamy coleslaw, or go for the munchtastic crispy chicken wrap with salad. Of course, we do know that your event will include people who aren't fans of meat. They'll love our superb vegetable burger option.
---
From the North to the South
---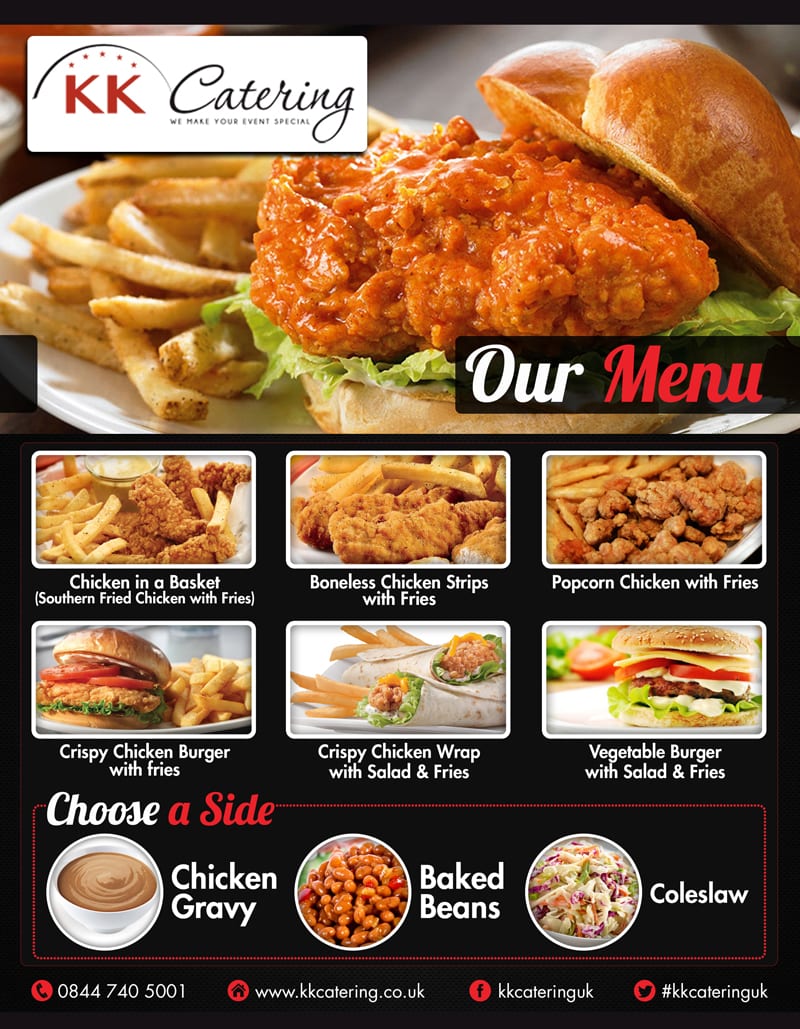 We offer nationwide coverage, so are you ready to bring the fun and wow of our mobile fried chicken catering van experience to your event? We have a passion for delivering great taste, so we use the finest of ingredients to deliver fast food of true quality and style. Street food is becoming increasingly popular across the UK, and hiring our fried chicken and chips van for your event takes this enjoyment to a whole new level.
Once you contact us by calling 0844 556 1250 or by completing the form at the foot of this page, our friendly and experienced KK Catering team, all seasoned experts in event catering, will take the time to find out all about your plans.
We'll then work with you so that our presence can help make your family or other event both great fun and truly memorable. Take the first step towards making gorgeous fried chicken taste sensations a highlight of your amazing occasion now.
Get your Price in Real time
What our Customers say