Frequently Asked Questions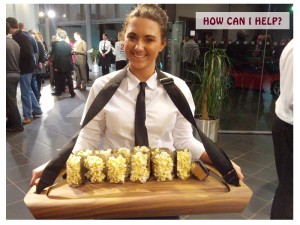 We all have questions, after all arranging the food at your event is one of the most important factors and we are here to ensure that you are armed with all the knowledge you require.
Our customer service team have come together to create an FAQ page based on the most popular questions we receive every day.
If we can be of any further assistance please call us on 0844 5561250 or click the red chat icon in the bottom right of this page
Please take a look at the most popular questions you may have
What deposit do you require?
We require a 25% deposit to secure your booking.
How long do you cook and serve for?
All quotes are based on 2-hour food service, we charge £50 per each additional hour (discounts may be available for all-day service)
How soon should I book?
To avoid disappointment we would advise you to book as soon as possible as availability can be low in the summer months,
How long is your quote valid for?
Your quote is based on numerous, varying factors including availability so we cannot put a time limit on your quote. We would advise you to book as soon as possible to get the price you have been quoted.
Can you provisionally hold the date?
Unfortunately, due to high demand we are unable to provisionally hold any dates until your deposit is paid.
Can I request which unit I want?
We will always endeavour to provide the unit that you request however we cannot guarantee which unit you will receive until closer to the date. We upgrade and expand our fleet throughout the year.
What is the size of the unit?
The size of our units vary from 10ft x 8ft to 18ft x 8.2ft
What space do you require?
We advise to allow space for one of our largest units 18ft x 8.2ft plus a towing vehicle of 14ft x 8ft. If you are limited on space please let us know before booking so that we can try and allocate you a small unit.
Do you need access to power?
We can provide our own power however if you have access to a standard 3 pin, 13 or 16 amp power socket this would save a generator running.
Do you have protection for guests if it rains?
Our units have wide serving hatches that can provide shelter/cover for 6-10 guests at a time. We would also try to serve as close to your entrance as possible.
What type of oil do you use?
We use vegetable oil
Can you cater for Halal?
We can offer a Halal menu; please mention before booking if this is required.
Do you cater for children and provide discount for child portions?
We can provide special menu options for children and smaller portions however your quotation is based on a package not a price per head.
Can I confirm numbers closer to the time?
You are welcome to confirm numbers up to 7 working days before your event date.
Can we combine menu choices to be served from the same unit?
Most of our menu options require special equipment so it is not possible to serve different menu choices from the same unit. Please ask about this further if you have a special requirement.
Is your quote based on a price per head?
Our quote is based on a personal package based on the numbers attending your event.
Can we taste your food before booking?
We can arrange tasting sessions at our head office in Cheshire, as we are specialists in mobile catering for private parties, company events and weddings we only have one site where this service is available.
Do you offer a sit down service?
If your guests collecting food directly from the food unit is not for you (counter service) then we also offer the following service types
Self Serve Buffet style inside your venue + £100 (Guests help themselves to the food kept hot inside your venue)
Staffed service Buffet inside your venue + £200 (We serve your guests the food behind 12ft buffet tables inside your venue)
Swap your takeaway packaging for crockery and cutlery (£1.25 per person)
Full table service – If your venue offers waiting on staff we can serve the food over the counter to waiting on staff provided by your venue or you (We can serve 25-30 guests every 15 minutes)
Can we provide our own waiting staff?
You are more than welcome to provide your own waiting staff and our team will be happy to work alongside them to provide an efficient service.
What percentage of guests should we cater for?
In our experience we would advise for you to cater for 95-100% of your guests. This is not your standard buffet, this is a novel idea and you are offering your guests hot and tasty food. Plus our service stays open for around 2 hours (depending on numbers) so your guests can come up in their own time to enjoy our food.
Read our blog about this popular question – How many of my evening guests should i cater for?
Do you supply table cloths?
We do not hire or supply table cloths
Do you supply crockery and cutlery?
Included in your quote are high quality disposable cutlery, serving trays/boxes and napkins. If you require silver cutlery and crockery we can hire this at an additional cost. Please ask for a personal quote.
Can we supply our own crockery and cutlery?
If you would like to provide your own cutlery and crockery you are welcome to do so.
Student GCSE/Study Information;
Unfortunately we are unable to provide quotes for your research on hypothetical events. This is due to the fact that we use a system that requires a lot of information about an event before we can provide a quote. Our system takes in to account a lot of factors, including event history, previous revenue, marketing structures etc. We wish you all the very best with your studies.